Model 1900 Sight Safety Altered Serial Number 4264 - This pistol is one of the last Model 1900 Colt .38 automatic pistols manufactured. It has front plunge milled serrations, high polish blue, high spur hammer and factory altered sight safety. The high serial number for the Model 1900 is 4274 and the highest number observed is 4268. Serial number 4264 (above) is the highest serial number observed with the sight safety altered slide, although 4272 and 4274 are both recorded as having been shipped with "old style rear sight & safety."
Colt Model 1900 serial number 4264 was shipped to retailer Will R. Allen, Dallas, Texas on July 3, 1902 in a shipment of three pistols. The other two pistols in this shipment were 4275 (the very first Model 1902 Sporting) and 4277. Both of the Sporting Models were shipped with stub hammers.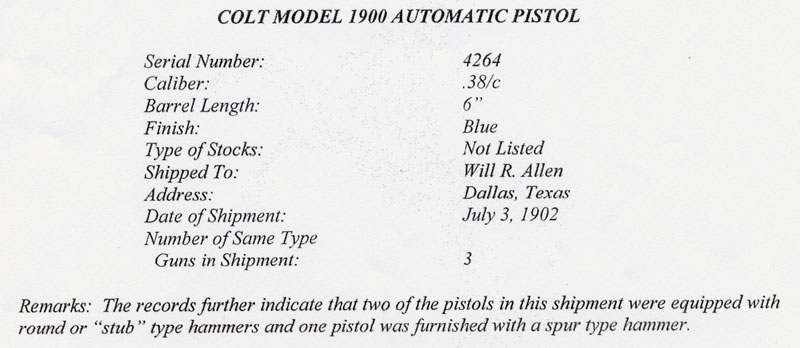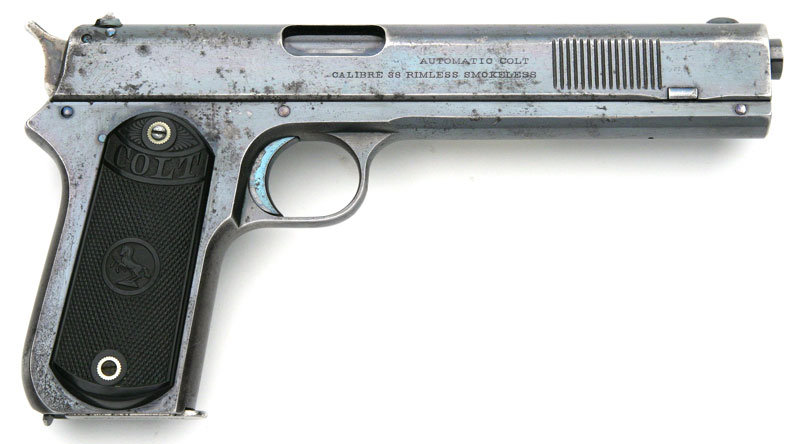 Colt Model 1900 serial number 4264 - Right side view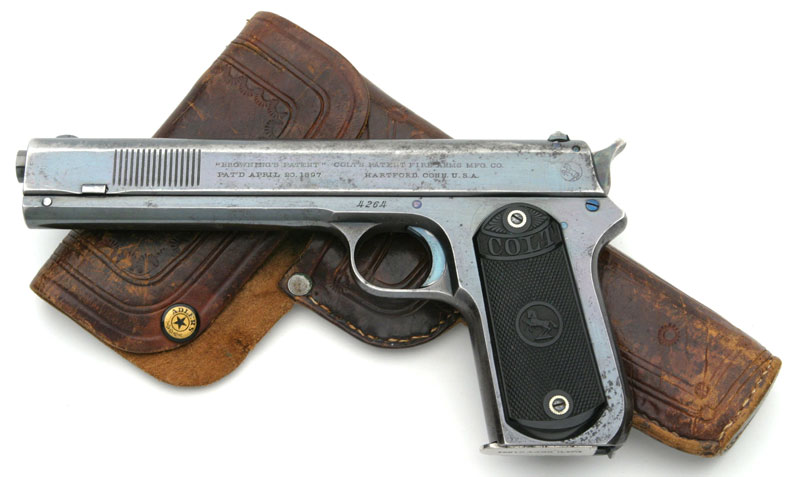 Colt Model 1900 Serial number 4264 marked on left side of frame, above trigger. Lack of VP mark indicates that the gun either had sight safety modified prior to 1905 or was originally shipped from the factory with the sight safety altered. Since it's a later example, the gun was most likely manufactured and shipped in the altered state.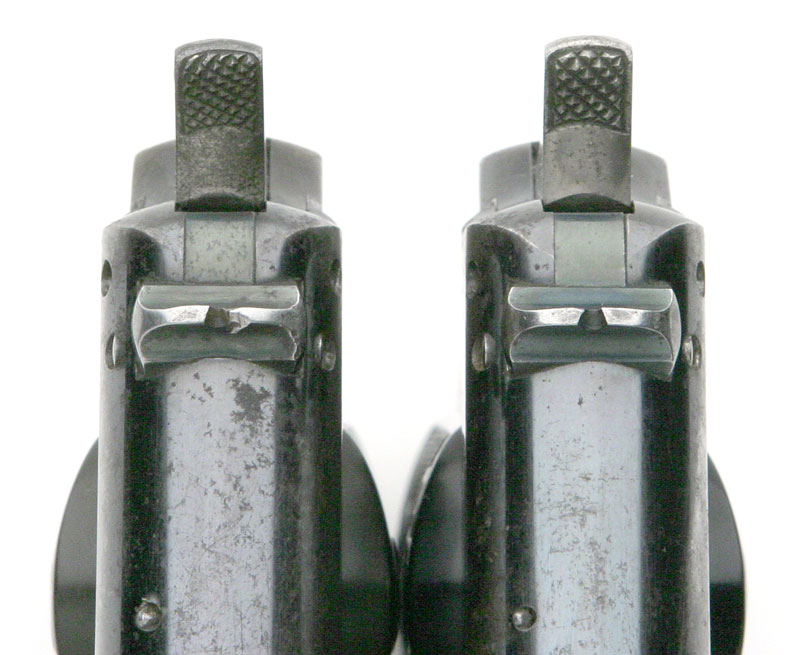 Factory Alteration to Sight Safety - sight safety has been removed and plugged with a piece of steel. A second pin was inserted in the rear of the slide to secure the block. Top of slide was modified with a dovetail to accept the new rear sight. Colt Model 1900 serial number 4018 is pictured on the left and serial number 4264 is pictured on the right. Note the variation in hammer checkering.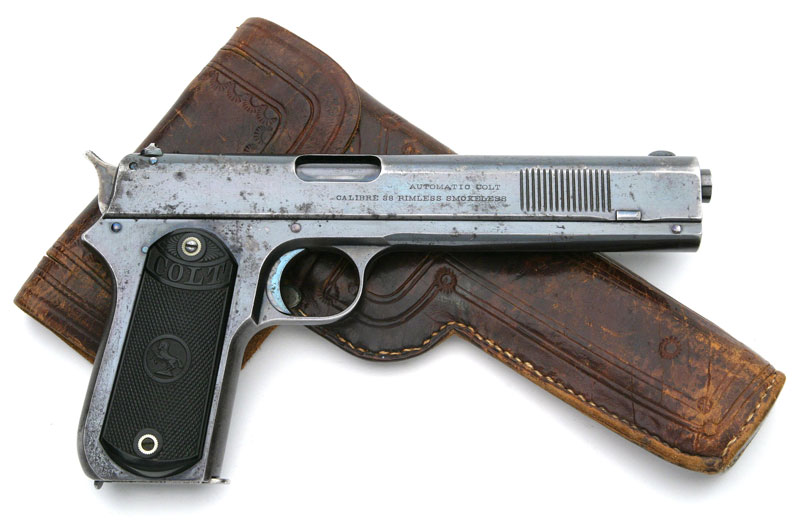 Colt Model 1900 serial number 4264 shown with holster which accompanied the gun.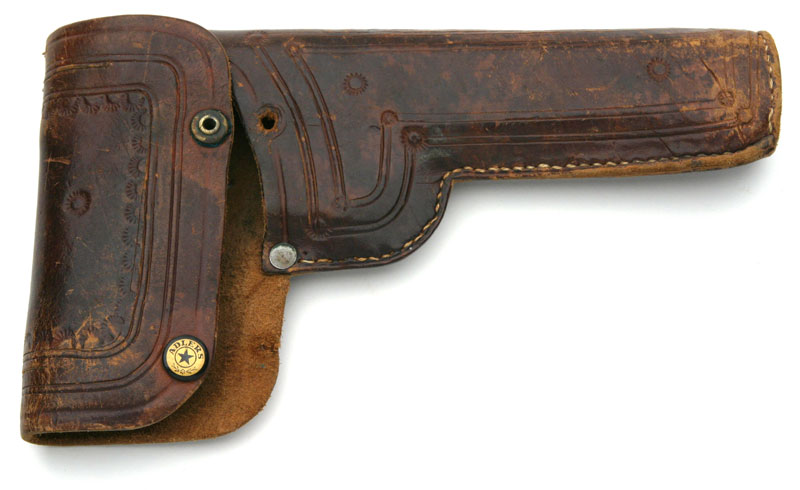 Pistol came with a leather Hip holster, with a snap marked "Adlers".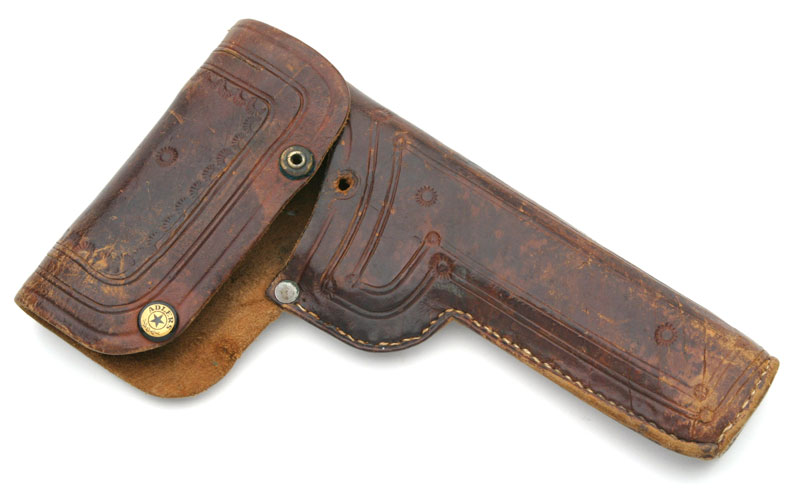 Old leather hip holster with snap marked "Adlers"