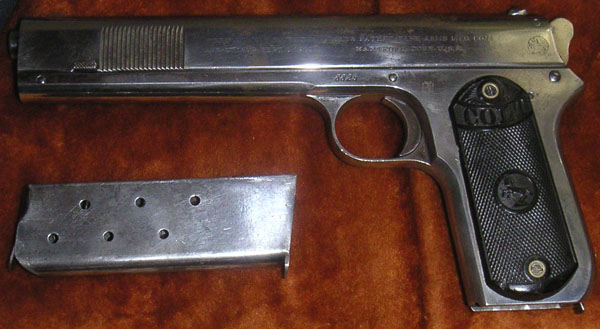 Marshall Adame Collection

Early Colt Model 1902 Sporting Model - This 1902 Colt Sporting Model, serial number 8825, was acquired in 1985 from a Chilean Police Col. who acquired it by means of an Arms raid of the Manuel Rodriquez Front (Chilean Resistance Group) who was against the (then) Dictator Augusto Pinochet. The Manual Rodriguez Front acquired it from it's Peruvian sister group The Shining Path. The Shining Path Group acquired it from a raid of an Peru Army Magazine.

A Colt factory letter confirms the shipment of six 1902 Sporting models in 1906 to the W.R. Grace Company and that W.R. Grace ordered six pistols to be shipped to the president of Peru (W.R. Grace had many mining interest in Peru). The letter does not confirm the nickel plating which, presumably, was done after the gun was shipped. The serial numbers for all six guns in the same shipment are: 8825, 8826, 8827, 8828, 8852, 8854. There is also have a record of 7805 and 7849 as having been shipped to W.R. Grace & Co on 17 Feb 1905.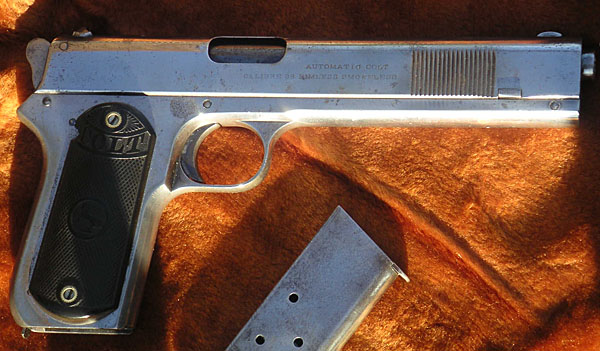 This gun has triangular front slide serrations and Browning's Patent marking on the left side of the slide. These guns lacked the slide lock and lanyard loop as seen on the 1902 Military Model.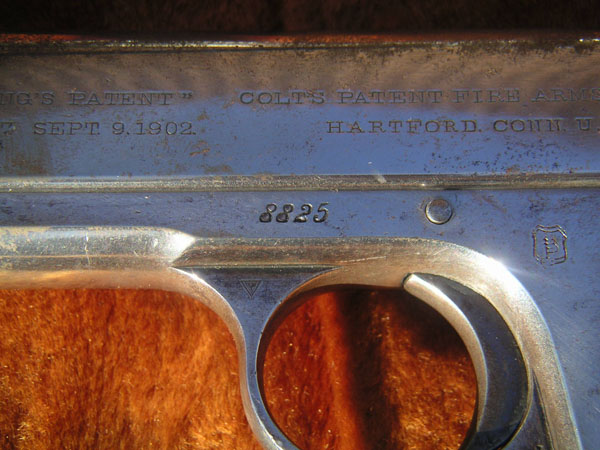 Serial number, slide markings and Peru Government Armory mark.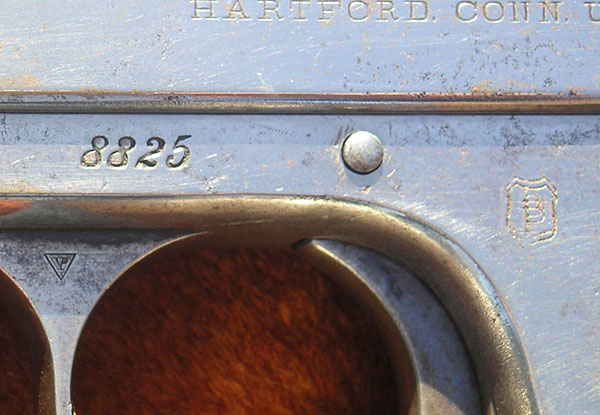 Close-up of serial number and Peru Government Armory stamp behind the trigger on the left side of the frame.