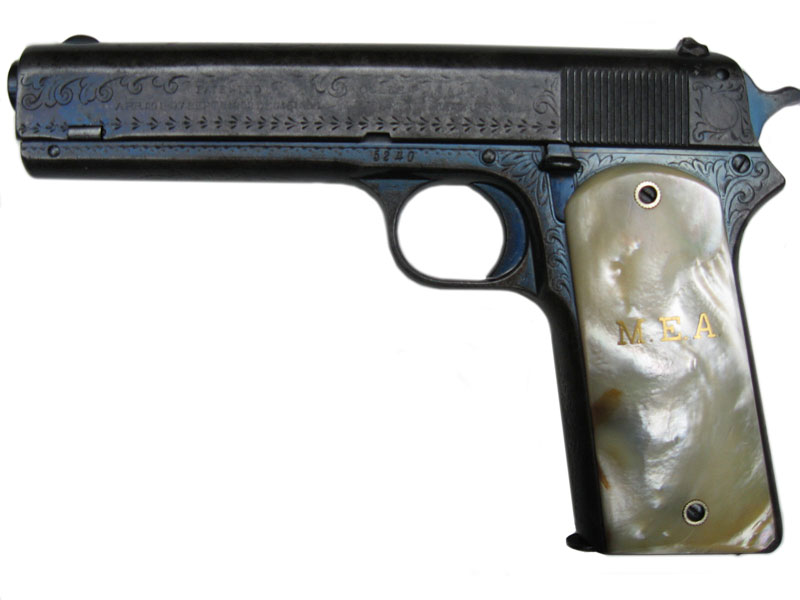 Private Collection

Colt Model 1905 Factory Engraved with Mother of Pearl grips serial number 5240 - This Colt Model 1905 belonged to a murdered El Salvadorean president named Manuel Enrique Araujo (gold initials "M.E.A." on the gun's grip) and it also has the coat of arms in solid gold on the right grip. This gun was shipped May 2, 1911 to Bloom Bros. The notation in the records indicates "Pearl, Eng., Special." He was President of El Salvador from 1911 - 1913.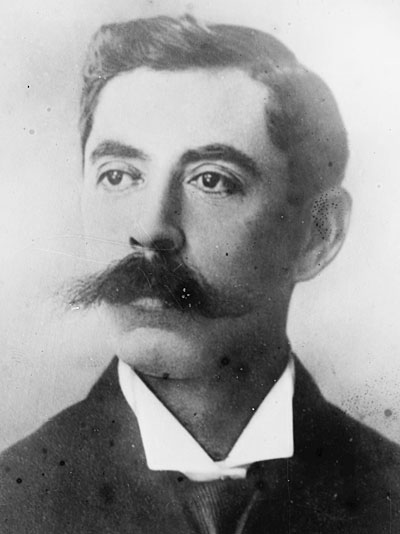 Dr. Manuel "Miguel" Enrique Araujo Rodriguez (Usulután, El Salvador,October 12, 1865- San Salvador, El Salvador,February 9, 1913) was President of El Salvador 1 March 1911 - 8 February 1913. was a physician and political Salvadoran President of the Republic (1911-1913), the sole ruler of Country killed in the exercise of their functions. He has maternal Portuguese blood.

Born in the town of Alegria, in the department of Usulután, in a family of Portuguese descent landowner, cultivation of coffee. Araujo studied medicine at the University of El Salvador, after completing his doctorate in 1891, he traveled to Europe to perform specialized studies of Surgery.

The doctor Araujo was presented as official candidate in the election of November 1910, with the support of outgoing president Fernando Figueroa. During his government gave special attention to the Army. Many foreign military missions were hired to serve the education and skills of officers Salvadorans. In 1912 he founded the National Guard, for the organization of this security corps, were recruited former officers of the Spanish Civil Guard whose image was organized Salvadoran, as a rural police in the period of Araujo were created in addition, justices of the peace in all the country's municipalities, to ensure the rule of law throughout the country and established the Ministry of Agriculture to promote the cultivation of coffee. In 1911 is celebrated the centenary of the independence uprising of 1811, with the inauguration of the monument to the heroes in the Freedom Park in San Salvador were decreed in 1912 and the current National Flag and Shield.

On February 4, 1913 during a concert in the park Bolivar of San Salvador, (now Plaza Barrios), the chairman Araujo was seriously wounded by machetes by the peasants Virgil Mulatillo, Fermin Fabian Perez and Graciano. The president died five days later due to wounds. Never was thoroughly investigated, the motives of the attackers, who were shot after a military trial.
Source: http://en.wikipedia.org/wiki/Manuel_Enrique_Araujo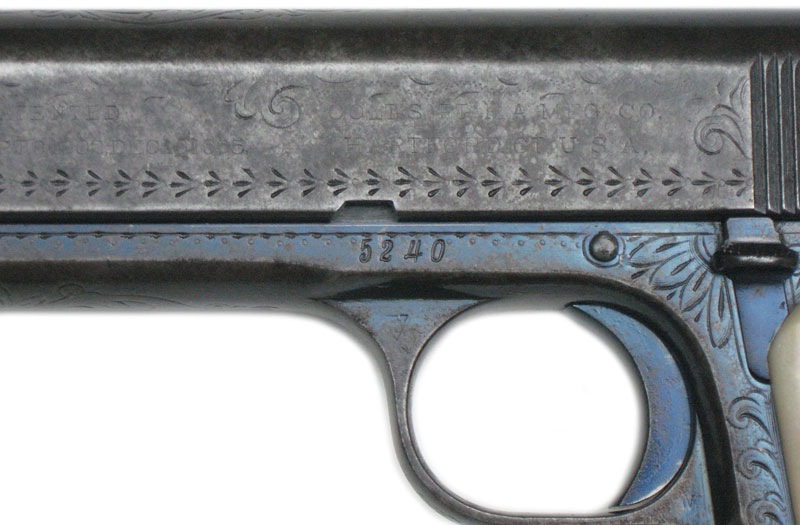 Colt Model 1905 Factory Engraved with Mother of Pearl Grips serial number 5240 - left side of frame showing serial number and engraving around trigger area.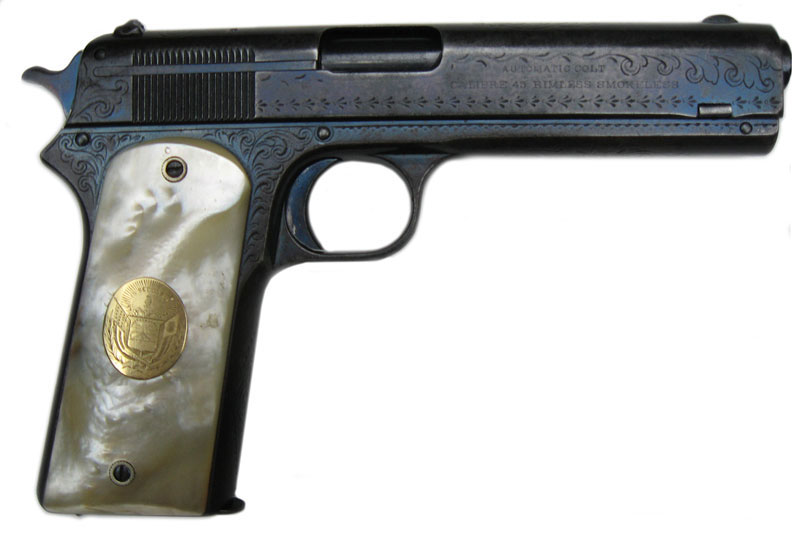 Colt Model 1905 Factory Engraved with Mother of Pearl Grips serial number 5240 - right side of pistol.