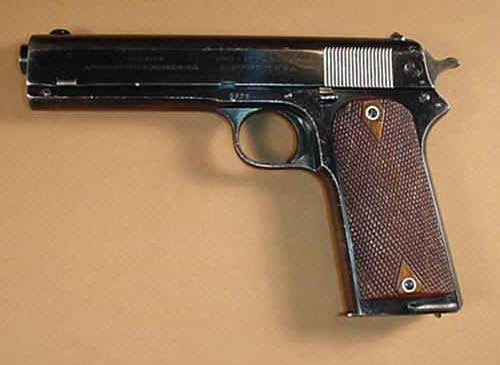 Bill Koszarek Collection, Photos & information courtesy of Bob Brecht

Model 1905 serial number 5929 - British Military Model Colt M1905 .45 Automatic Pistol with lanyard loop, 7-shot magazine, 5 inch bbl, mfg. in 1911 and shipped to the Colt's London Agency Sept. 8, 1911. British Ordinance Board Mark(?): The number 8528 is struck into the well for the magazine catch in the butt. This may be a British Ordinance Board Trial number from the initial sale of the piece in London in 1911.

Colt Factory Markings: The standard Colt Verified Proof mark is present on the left forward trigger guard bow. The inspector mark "W" for Axel Halstrom is on the left rear trigger guard bow. The assembler's mark "3" for Wilson Kay is on the left side of the frame. The slide markings are correct Type D markings according to Potocki's classification system.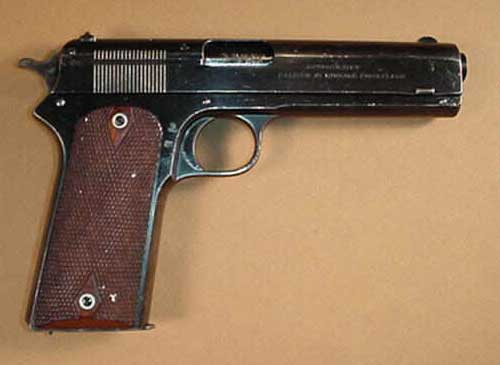 According to Goddard's "The Government Models", less than 400 of the total production of about 6200 pieces were shipped to England. Accordingly, only about 6% of production was built in this configuration with the lanyard loop and shortened left grip.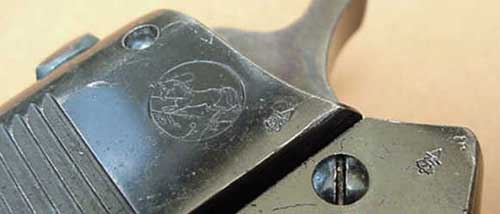 British Commercial Proof Marks are as follows. Proof Act of 1904 -1925: The London view mark is present on the barrel hood and on the receiver and slide near the hammer on the left side.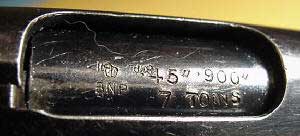 The London proof mark is on the barrel hood. The later (Proof Act of 1955) Birmingham ".45" .900"/7 TONS" is stamped on the barrel hood beside the crown over BNP mark indicating caliber (bore) and the pressure of the proof charge in tons per square inch.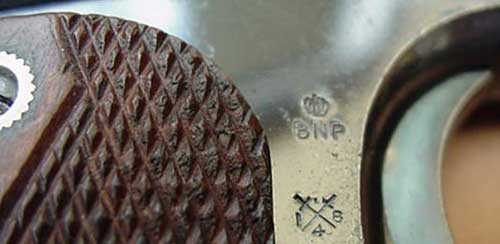 The Birmingham Proof crown over BNP is on the right side of the slide aft of the ejection port. Crown over BNP is also found on the barrel hood and the right side of the receiver aft of the trigger. Birmingham proof crossed scepter private view mark is on the right frame aft of the trigger just below the crown over BNP.