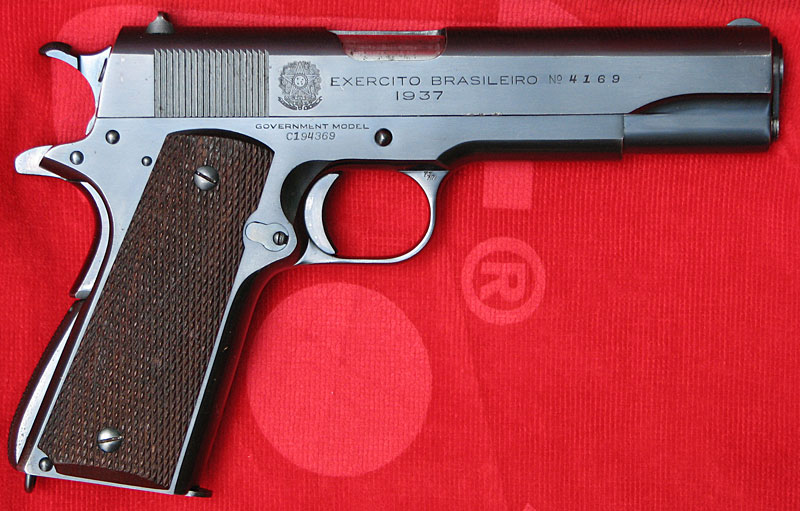 Greg Friedmann Collection
Colt Government Model 1911A1 Brazilian Contract serial number C194369, slide number "No 4169" - From 1937 through 1941, 14,500 pistols were purchased for the Brazilian Army. These pistols were in the serial number range from C188000 to C209000. They were stamped on the right side of the slide to the left of the slide inscription with the Brazilian crest. EXERCITO BRASILEIRO (which translated means "Brazilian Army") is also stamped on the right side of the slide above the date "1937." Numbers on the slide range between 1 and 14,500.
This pistol lacks the Swartz Safety, which despite being serial numbered in the range of Colt Government Models that shipped with this safety device, is normal for the Brazilian Contract pistols. This pistol has a "G" next to the disconnect on the frame indicating it is a left over or reclaimed rejected military frame (without the heart shaped protrusions under the stocks). The serial number on the slide and frame match and the barrel has an "S" in front of the lugs. The magazine is a full blue pin connected with the COLT 45 AUTO marked base.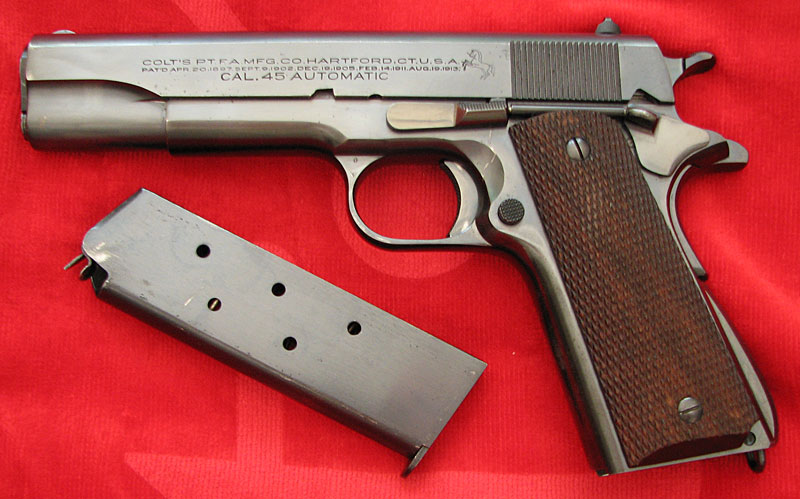 Left side detail - aside from the Brazilian contract designation on the right side of the slide, the Colt Government Model Brazilian contract of 1937 can be distinguished by the "CAL .45 AUTOMATIC" caliber designation under the patent dates.

Brazilian Contract - top of slide and sights.