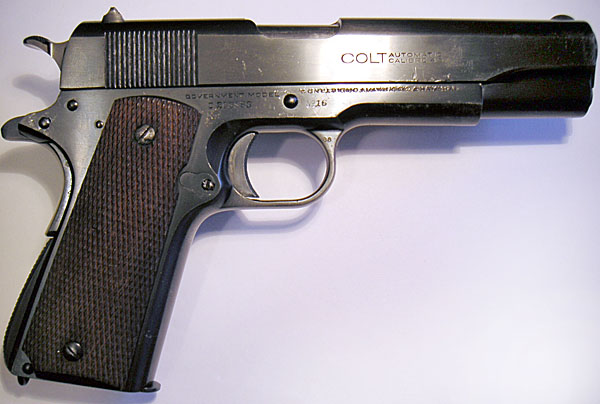 Bjørn Lande Collection
Colt Government Model Serial Number C208853 - Norwegian collector's item, the "Shanghai Colt Government Model". In late 1941 the Norwegian government ordered 100 Colt Government models from the Colt factory. The guns was shipped to the "Royal Norwegian Naval Service," Halifax, Nova Scotia January 16, 1942. May 7, 1942 another 100 pistols was shipped in two separate shipments, 94 pistols shipped to Halifax, with the remaining six guns shipped to Government representatives in Washington. The guns were to be used on Norwegian whaling boats, equipped to be convoy escorts. At first, these 200 pistols were ordered from Colt by French authorities and intended for Shanghai Municipal Police (SMP) use. After the Japanese invaded Shanghai, this order was cancelled and the guns were shipped to Norwegian representatives.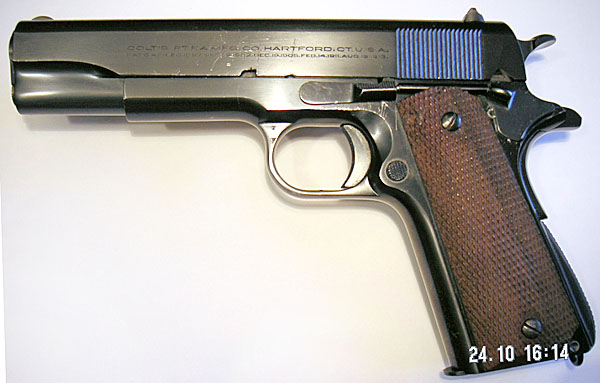 This Colt Government Model has an obliterated "Concession Francaise Changhai" marking on the right side of the frame Colt with serial No. C-208853, and marked "No. 16." This was issued to a naval officer at the Royal Norwegian Naval Service station Camp Lunenburg, Nova Scotia, Canada. This particular pistol is from the first shipment that was ordered from Colt. This shipment was meant for the French Police in Shanghai, but was cancelled because of the Japanese invasion of Shanghai. The shipment was redirected to the Norwegian government and sent to Camp Lunenburg, as mentioned. The shipment arrived the camp on January 16, 1942. There was one last order, and this last shipment arrived on May 7, 1942. This pistol is from the first shipment. A total of 194 pistols where delivered from Colt to Camp Lunenburg.

This naval officer to whom this pistil was issued during WWII was later enlisted in Norway Independence Company No. 1 (called "The Linge-Company", after the founder Captain Martin Linge, who was killed in action during the WWII). The Company soldiers were trained in Scotland before being parachuted over Norway in order to join the home-resistance fighting German occupants.

The pistol also has the special Shanghai Colt magazine.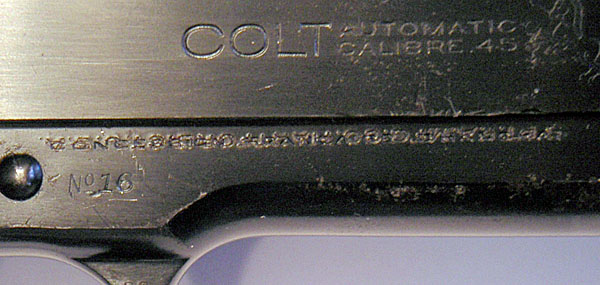 The left side of the slide was factory roll marked "Concession Francaise Shanghai". Before being shipped to the Norwegians, these markings were "overstamped" with a "S PAT. F.A. MFG. CO. HARTFORD CT. USA" upside down roll die.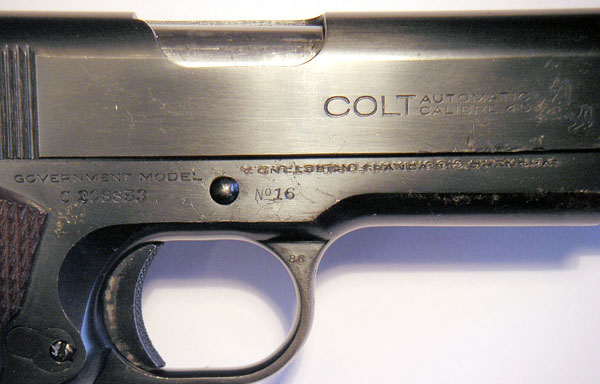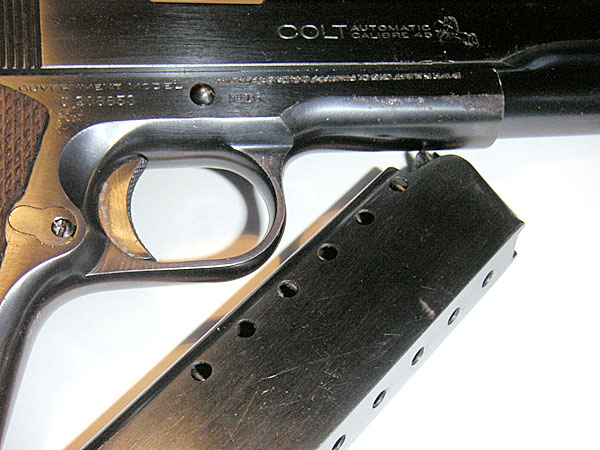 Magazines issued with these guns differed from "stock" examples as the issued magazines had "in-line" holes at the back and left side in stead of the standard "zig-zag" pattern. (Information Source: Mr. Hanevik and his Norwegian colt book)