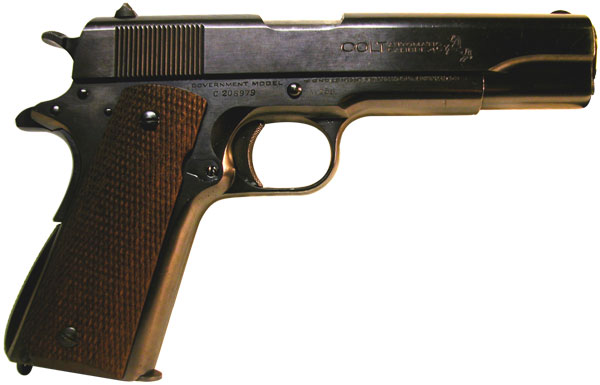 Ole Tom Nord Collection
Colt Government Model Serial Number C208979 - Norwegian collector's item, the "Shanghai Colt Government Model". In late 1941 the Norwegian government ordered 100 Colt Government models from the Colt factory. The guns was shipped to the "Royal Norwegian Naval Service," Halifax, Nova Scotia January 16, 1942. May 7, 1942 another 100 pistols was shipped in two separate shipments, 94 pistols shipped to Halifax, with the remaining six guns shipped to Government representatives in Washington. The guns were to be used on Norwegian whaling boats, equipped to be convoy escorts. At first, these 200 pistols were ordered from Colt by French authorities and intended for Shanghai Municipal Police (SMP) use. After the Japanese invaded Shanghai, this order was cancelled and the guns were shipped to Norwegian representatives.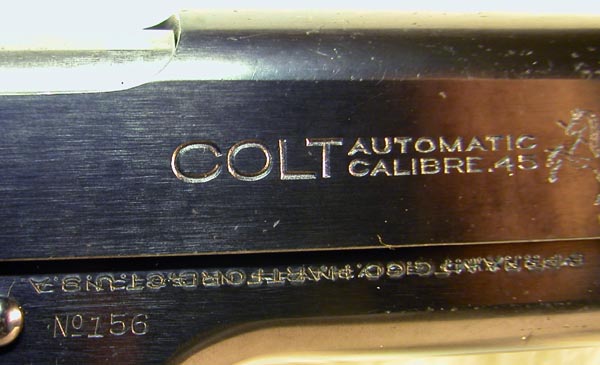 The left side of the slide was factory roll marked "Concession Francaise Shanghai". Before being shipped to the Norwegians, these markings were "overstamped" with a "S PAT. F.A. MFG. CO. HARTFORD CT. USA" upside down roll die.
Magazines issued with these guns differed from "stock" examples as the issued magazines had "in-line" holes at the back and left side in stead of the standard "zig-zag" pattern. (Information Source: Mr. Hanevik and his Norwegian colt book)
This particular gun has three matching magazines and accompanying the gun is the holster and magazine pouch issued with the gun, and marked "KGL NORSKE MARINE" (ROYAL NORWEGIAN NAVY).