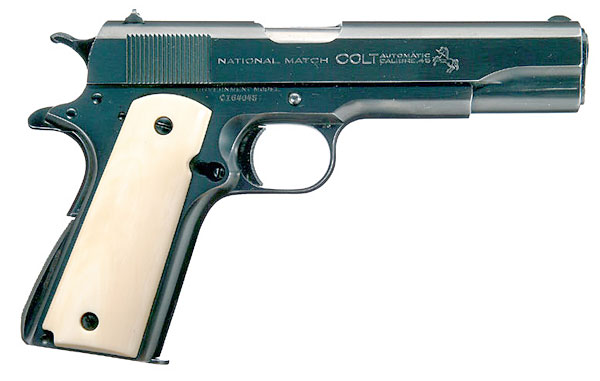 Private Collection
Very Early Colt National Match Serial Number C164045 with fixed sights, blued finish, aftermarket ivory grips and factory inscription R.J. Borromey, U.S.C.G. on the left front of the frame. The Colt factory letter confirms the inscription on the left side of the receiver and indicates that the pistol was shipped to R.J. Borromey; USCG Rifle Team, Camp Ritche, Cascade, Maryland on June 2, 1932.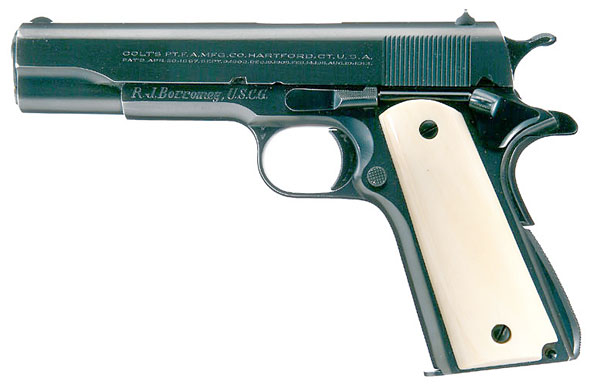 Very Early Colt National Match Serial Number C164045 - left side view. The magazine has "COLT" over "45 AUTO" on the base. The barrel is blued with polished chamber and has the initials "M.B." in a circle indicating a Match Barrel stamped on the right side of the barrel lug.

Captain Romeo J. Borromey, United States Coast Guard graduated from the Coast Guard Academy in 1929 and spent 16 of his 30 years of service at sea. During World War II Captain Borromey was commander of the U.S.S. El Paso which was awarded three battle stars for combat action. Borromey took part in many operations as commanding officer of the U.S.S. El Paso from 1943-1945 including bombardment missions at Wake Island, Sarmi Point and Aitape. It conducted scouting and rescue missions, finally becoming part of the screening forces at Morotai and Leyte. Captain Borromey died on February 22, 1992, and was buried in Arlington National Cemetery with a eulogy delivered by Joseph J. McGovern.