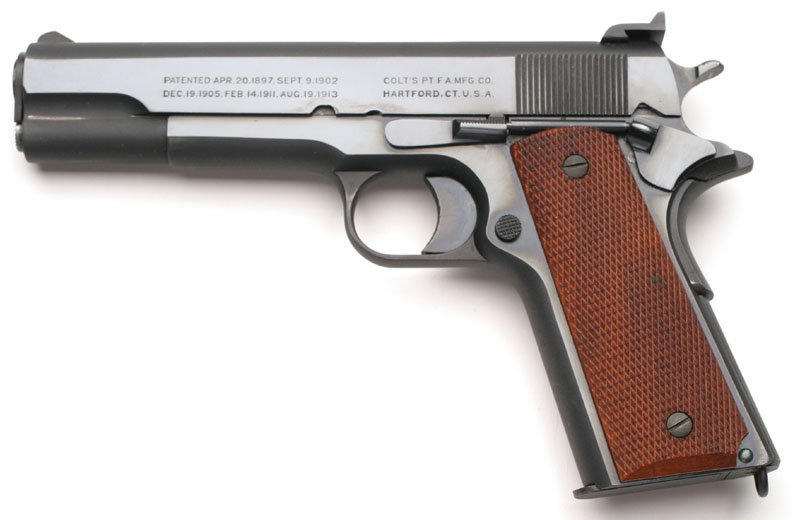 Colt Government Model C99459 - Owned by Champion Target Shooter John W. Hession (See September 2005 Gun of the Month). Pistol has been professionally refinished and is fitted with an unusual rear target sight. Finish is polished on the flats of the slide and frame and is matte on the top radius of the slide, under side of the slide, frame, trigger guard, grip straps and grip safety. Grips are later replacements. Barrel is WWII vintage High Standard "HS" marked.

This Government Model was one of two shipped to Remington Arms UMC Co., Inc., Bridgeport, Connecticut on January 29, 1918.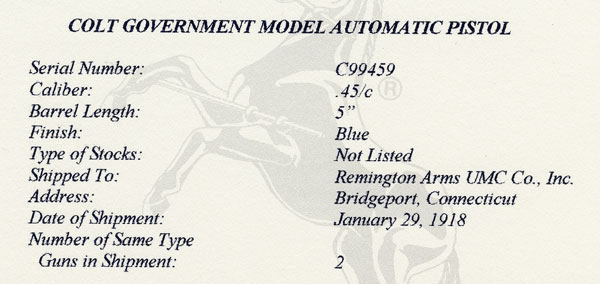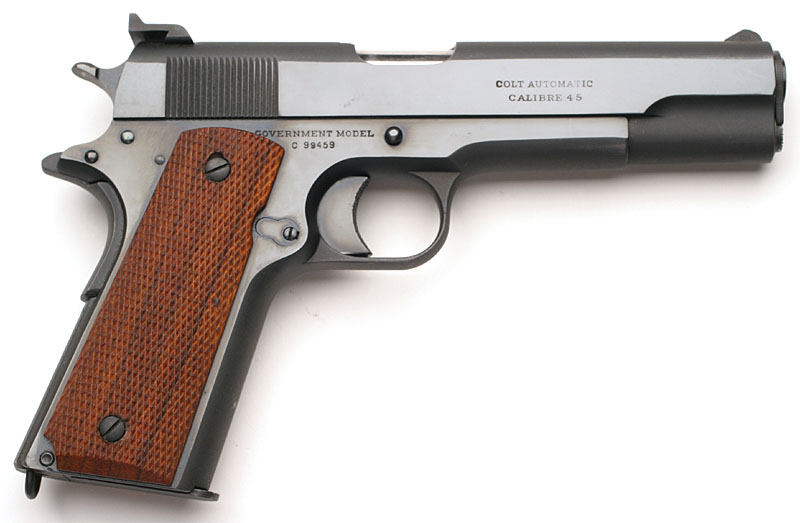 Colt Government Model C99459 - Right side view of pistol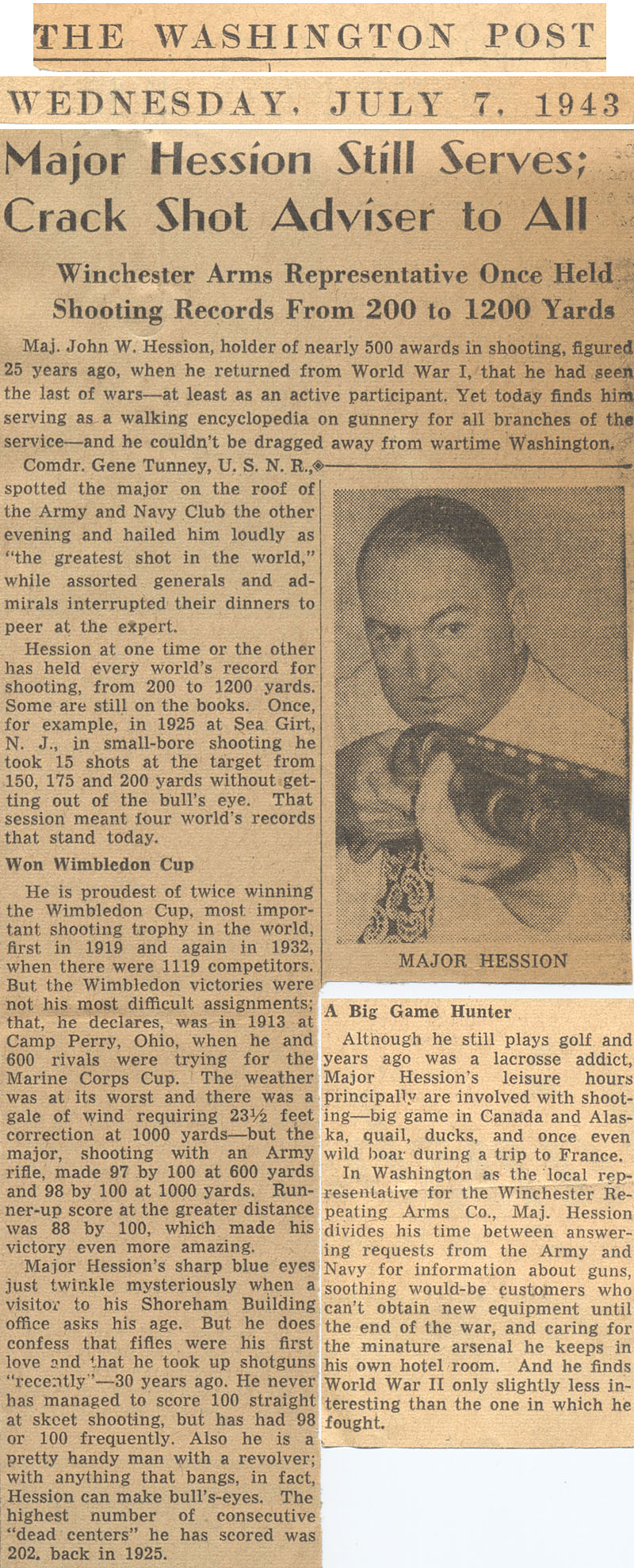 Major Hession Still Serves; Crack Shot Adviser to All - Winchester Arms Representative Once Held Shooting Records From 200 to 1200 Yards -- Washington Post, July 7, 1943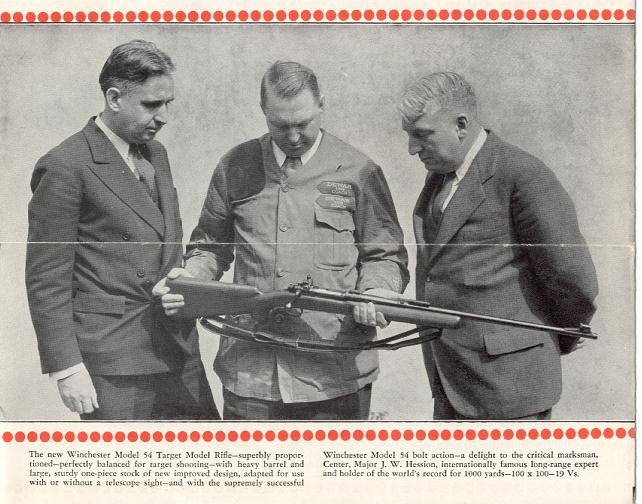 Major John William (Jack) Hession
September 8, 1877 - February 1, 1962
Maj. John W. Hession, center above, was an accomplished rifle shot and Winchester's Shooting Promotion Manager. Posted below are his obituary and American Rifleman short that chronicle his remarkable life and series of outstanding accomplishments and achievements within the sport of shooting sport. Major Hession was truly a pioneer in the world of competitive shooting.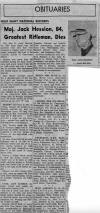 click the image for full page view
Clearwater Beach, Florida
OBITUARY - February 1, 1962
HELD MANY NATIONAL RECORDS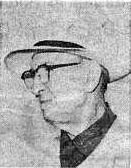 Maj. Jack Hession, 84,
Greatest Rifleman, Dies
Maj. John W. (Jack) Hession, 84, who some claim was the greatest rifle shot that ever squeezed the trigger, died in Clearwater yesterday. He lived in the Carlouel section of Clearwater Beach.

Hession won more than 500 matches during his long career, once held every record from 200 to 1,200 yards and was a member of 12 teams that represented the United States in competition abroad.

Once Walter Chrysler asked for a demonstration of the major's skill and Hession promptly obliged by shooting the ashes off the auto pioneer's cigar with a target pistol.

Less than two months ago Hession chalked up a perfect score at the Clearwater Rifle Club range with 40 straight bulleyes from 100 yards, putting 39 of the shots in the one-inch "X" ring."

HESSION was born in 1877 at Clinton, Canada. He worked as a ballistics engineer for both the Remington Arms Co. and Winchester Co. His "beavertail" design for a gun stock – which provided a wider and less tiring grip – earned him credit for improving scores of all shooters.

Maj. Hession made the 1908 U.S. Olympic Team and in 1918 finished 63 points ahead of the runner-up in the U.S. tryouts at France for the inter-allied rifle competition.

He once clicked off 102 straight bullseyes with a .22 rifle on a 200-yard course and had 79 in a row during practice at 1,000 yards. His best competitive run was 57 at 800 yards at Camp Perry, Ohio.

During a Camp Perry match in 1913, the major scored 19 "bulls" out of 20 shots at 1,000 yards shooting across a 42-mile gale that forced him to aim 25 feet to the right of the distant target.

Hession was still winning titles in 1942, when he copped the New York State Championship hitting 43 straight bullseyes at 1,000 yards.

UNTIL LAST SUMMER the major played golf weekly at Clearwater Country Club.

He was a crack trap shot, in addition to his rifle and pistol target ability. During his younger days the major was a bicycle champion too, winning the Dunlop Trophy in 1898.

Hession moved here 15 years ago from Hew Haven, Conn. He has memberships in Episcopal Church of the Good Shepard, Dunedin; National and English Rifle Associations; Army and Navy Club, Washington, D.C.; Retired Officer Club, Clearwater, and Explorers Club.chester Model 21 Page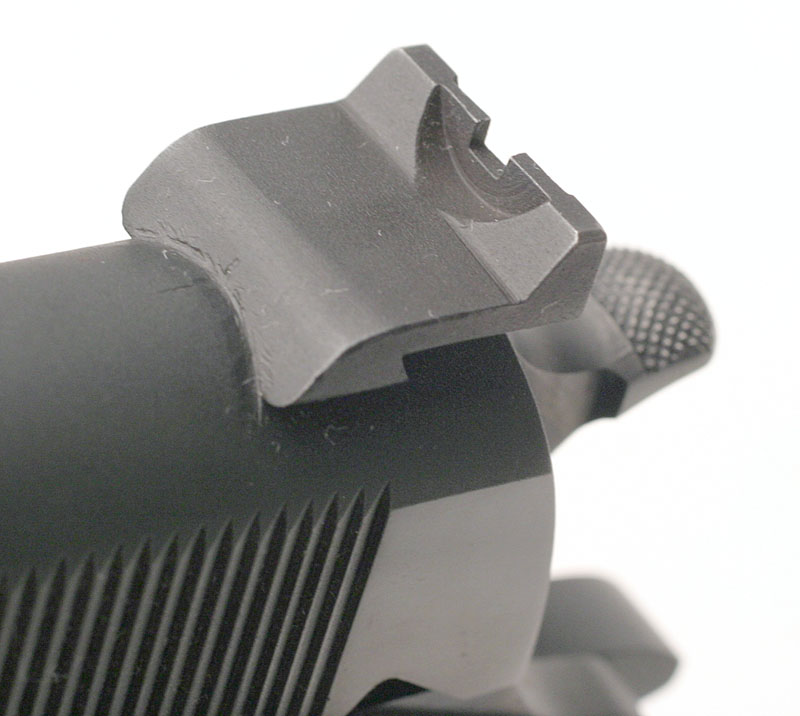 Front view of rear target sight.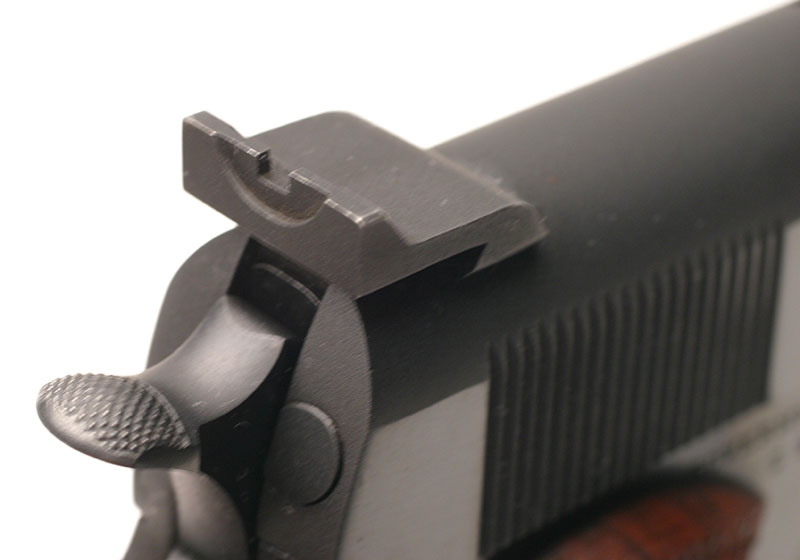 View of hammer and rear sight.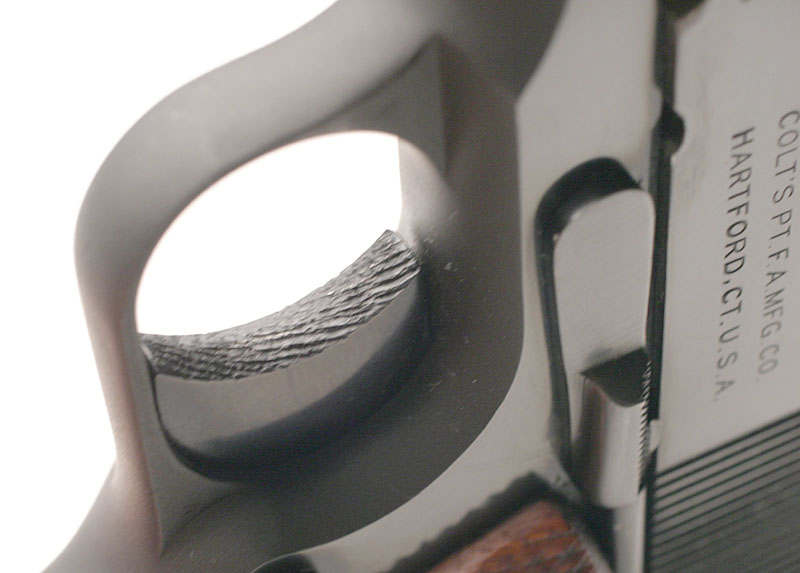 Trigger.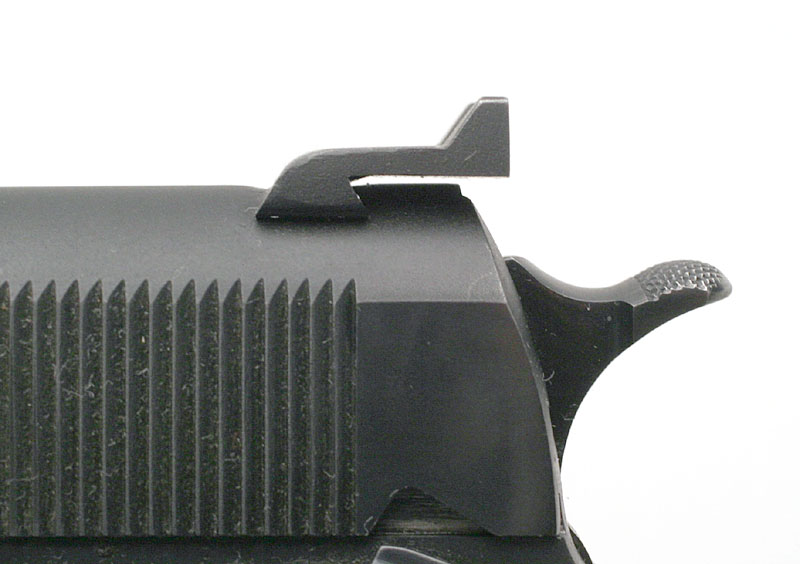 Left profile of rear sight and hammer.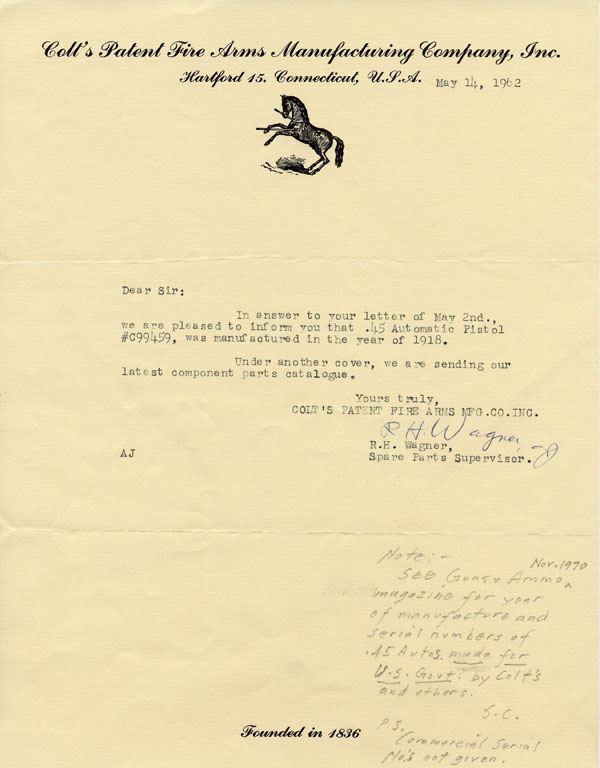 Factory letter from 1962 as requested by the previous owner who purchased this gun from an auction featuring many of Major Hession's firearms.

Original listing from auction.