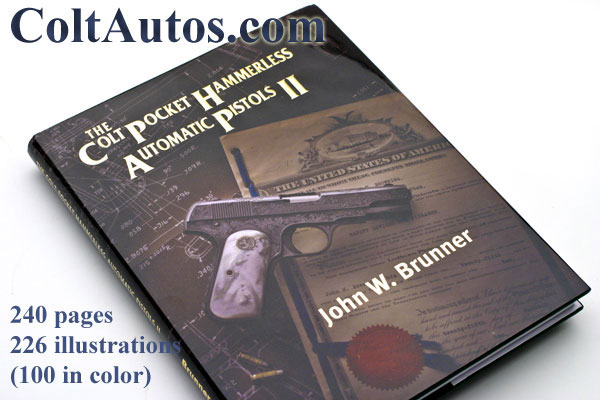 Price $275 USD + Shipping $16.80. Books shipped by USPS Priority mail / insured. Domestic Orders Only. Please contact me for international shipping rates.
The Colt Pocket Hammerless Automatic Pistols II
by John W. Brunner
The most authoritative publication on the Colt Pocket Hammerless Models has been recently reprinted in an improved Second Edition. Contained within is a detailed historical record of the development and use of these pistols, together with a detailed listing of general officers' pistols and serial numbers. You will never again have to question a .25, .32 or .380 with this well illustrated, definitive reference guide at hand.
This volume is extensively illustrated with many very rare variations of Colt pistols all photographed in fine detail for the collector.
Has your pistol been altered? Which general officer carried what pistol? 240 pages, hardbound, with 266 illustrations 100 of which are in color.