Gun of the Month
Annual Archive
---
Coltautos.com Gun of the Month - October 2000
Colt Model 1908 .25 ACP Vest Pocket Pistols
Serial Numbers 125221, 125330, 125565
"Three of a Kind"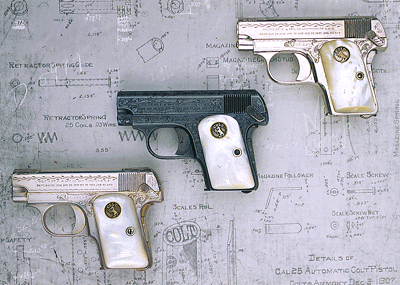 These three Colt Vest Pocket pistols were acquired at different times in the course of collecting. They are all factory engraved examples, in excellent condition and all have different factory finishes with round top recessed medallion mother-of-pearl grips. 125221 (center) is a Master Engraved .25 with blued finish done by Gough, 125330 (right) is a Style 3 or "A" engraved .25 with nickel finish and 125565 (left) is a Style 3 or "A" engraved .25 with rare silver finish. 125221 was shipped to Kentucky, 125330 to Ohio and 125565 to Texas. What's interesting about the set, is that, according to the shipping records, there are no other factory engraved .25 in between the three serial numbers. In other words, they are three consecutive factory engraved Vest Pocket Models.