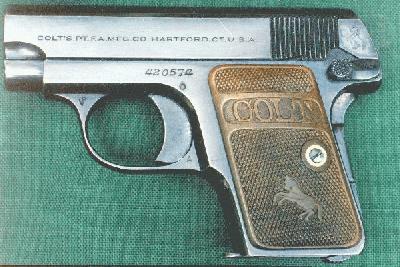 Colt Model N serial number 420574. Of the 705 guns produced in the 420000 serial number range, this is one of four guns recorded in the factory production book as having been scrapped. It has some unusual features which may indicate that assembly of this gun occurred sometime after this model was out of production. (see photos below). The brown grip is indicative of long exposure to light. The grip on the right side is black. Additionally, the front sight on this example and the last 200 or so pistols was ramped.
This five-pointed hollow star appears on the lower right trigger guard of serial number 420574. The mark in the center of the star appears to be an initial misstrike of the marking die. The significance of this mark is unknown. Additionally, the assembler's number "88" appears on the upper right flat of the trigger guard. Every other known example of the pre/post-war Model N has the number "53" on the upper right flat of the trigger guard.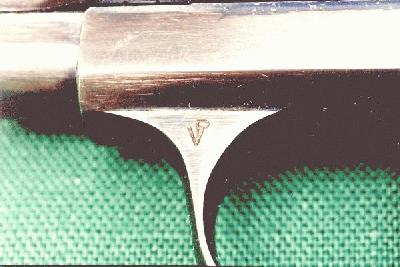 Also, the upper left flat of the trigger guard of 420574 contains a very unusual variation of the verified proof or "VP" mark.