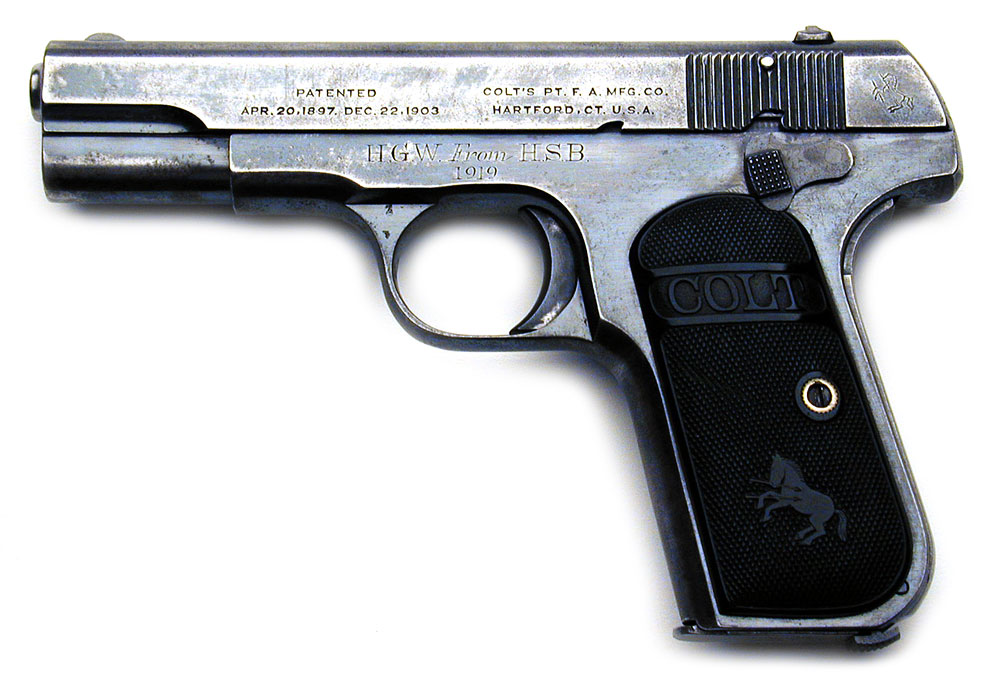 Colt Model 1903 Pocket Hammerless .32 ACP serial number 339539 - This pistol is factory inscribed with a presentation "H.G.W. From H.S.B. 1919" on the left side of the frame where the serial number is typically located. The serial number was relocated to the right side of the frame, above the trigger, to allow for the special order inscription.

Colt factory letter confirms these features and indicates that this pistol was a single gun shipment to H.S. Bettes Hardware Company, Paris, Texas on February 2, 1920 and processed on Colt Factory Order Number 1812/1.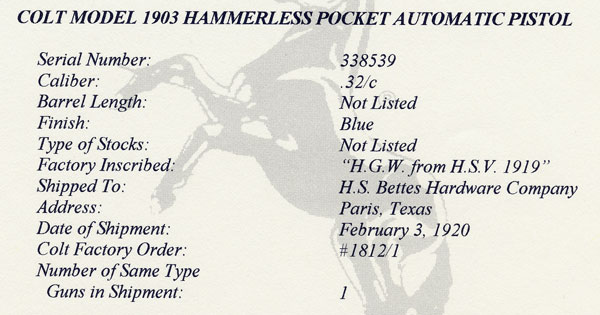 According to the 1920 census, H.S. Bettes was born in 1859 in Missouri and was age 61 in 1920. He resided in Paris, Texas.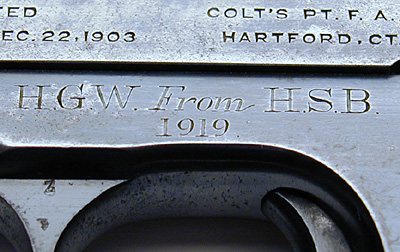 Close-up of the factory inscription - The first set of inscribed initials "H.G.W." are for Harry Gilmer Walcott, MD. Dr. Walcott was a physician from a prominent Texas family, born in Honey Grove, Texas, approximately 20 miles west of Paris, Texas. Dr. Walcott regularly visited Paris from his home in Dallas. His grandfather was the wealthiest man in the area and started the town. His son, Harry G's father, was an important banker.
Harry S. Bettes was born on March 18, 1858 and died on June 23, 1939. He and his wife, Mary Elizabeth McBath Bettes are buried in Evergreen in Paris, TX. H.S. Bettes Hardware Company filed as a Domestic For-Profit Corporation in the State of Texas and is no longer active. This corporate entity was filed on Thursday, April 2, 1896 as recorded in documents filed with Texas Secretary of State.
There were family connections between the Bettes and Walcott families and Harry S. Bettes and Harry G. Walcott were roughly the same age.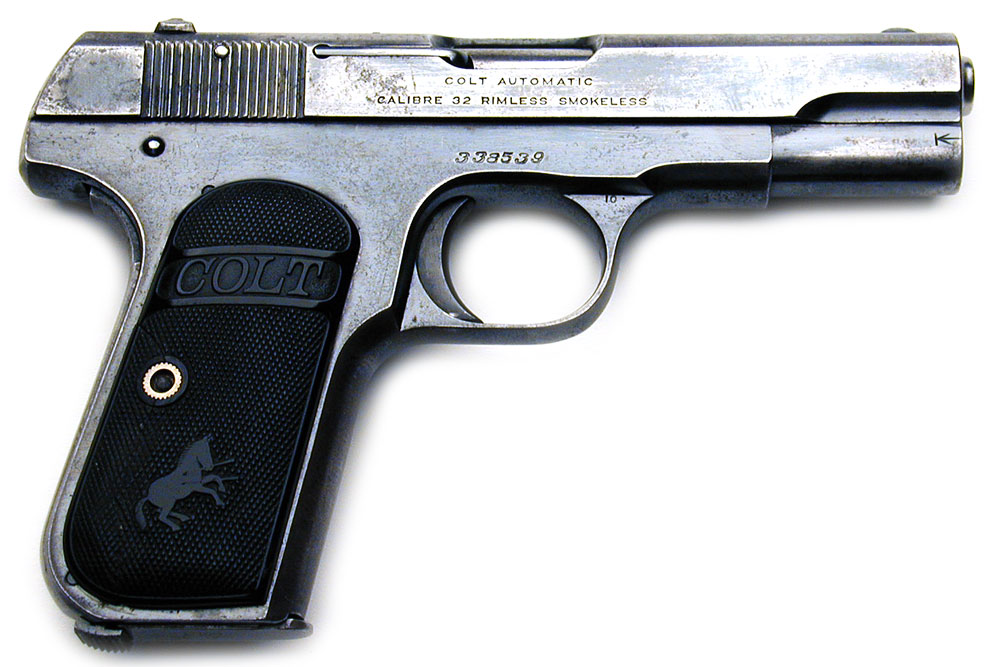 Right side showing relocated serial number.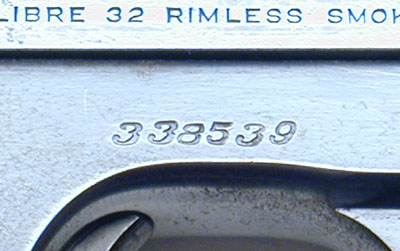 Close-up or relocated serial number.
Harry Gilmer Walcott, MD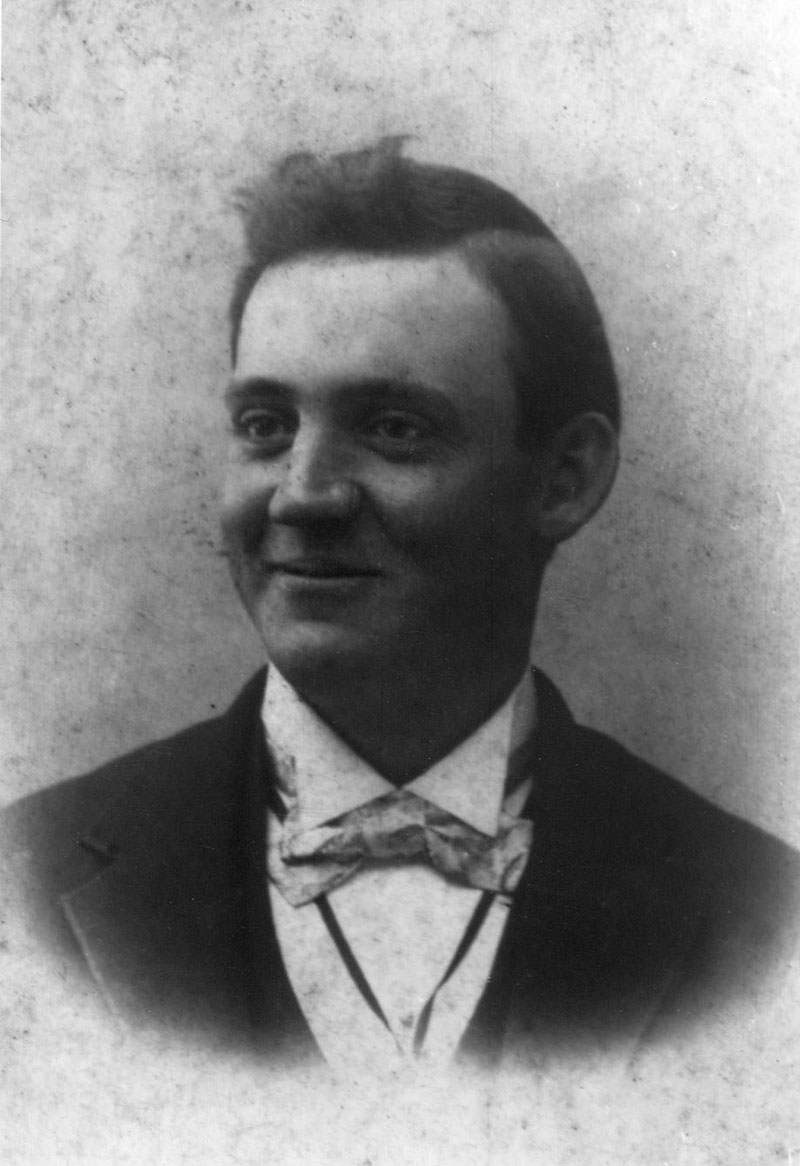 Portrait of Harry Gilmer Walcott, MD
Harry Gilmer Walcott, MD
November 12, 1878 - June 2, 1937
Dr. Harry G. Walcott, physician and surgeon, member of the medical firm of Walcott, Grigsby, Webb and Lott, is one of the best known physicians in Dallas and a man of wide experience in his specialty, diseases of the stomach and intestines. Dr. Walcott was for ten years professor of gastro-enterology in the medical department of Southwestern University and has done a great deal of original research work and written many valuable and interesting articles on this branch of the medical profession.
Beginning his medical career in Honey Grove, Dr. Walcott did general practice there for one year before coming to Dallas and taking up the work of his specialty. He has been a professor of the Baylor University Medical Department from 1915 to 1921, holding the chair of gastro-enterology.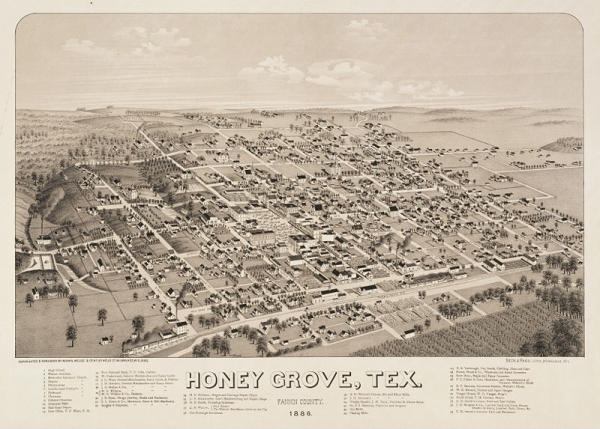 Honey Grove, Texas
A native of Texas, Dr. Walcott was born at Honey Grove, November 12, 1878, a son of Ben O. and Mattie (Wilson) Walcott, both natives of Honey Grove and prominently identified with the early development of that portion of Texas.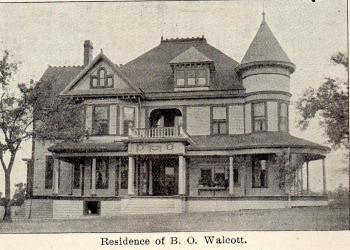 Residence of Ben and Mattie Walcott, parents of Harry G. Walcott
After attending the public schools, Dr. Walcott entered Staunton Military Academy at Staunton, Virginia, and later continued his academic studies at Austin College, Sherman. He then attended Holbrook Normal College at Knoxville, Tenn., before commencing his medical studies in Baltimore Medical College where he graduated with honors in 1901, receiving his degree of Doctor of Medicine. He did two years of interne work before graduating and was associate professor of physiological chemistry in this college for one year, and in 1903-04 did special post graduate work in the Medical College, Chicago, under Dr. Fenton B. Turck.
On October 18, 1905, Dr. Walcott was married at Gainesville, Texas, to Miss Wayne Howeth, native Texan, and member of a well-known Gainesville family. They have two children, Martha and Harry G., Jr.
In September, 1918, Dr. Walcott entered the service of the United States Army Medical Corps and was assigned for services in the base hospital at Camp Travis in charge of the officers' ward. He was discharged February 28, 1919.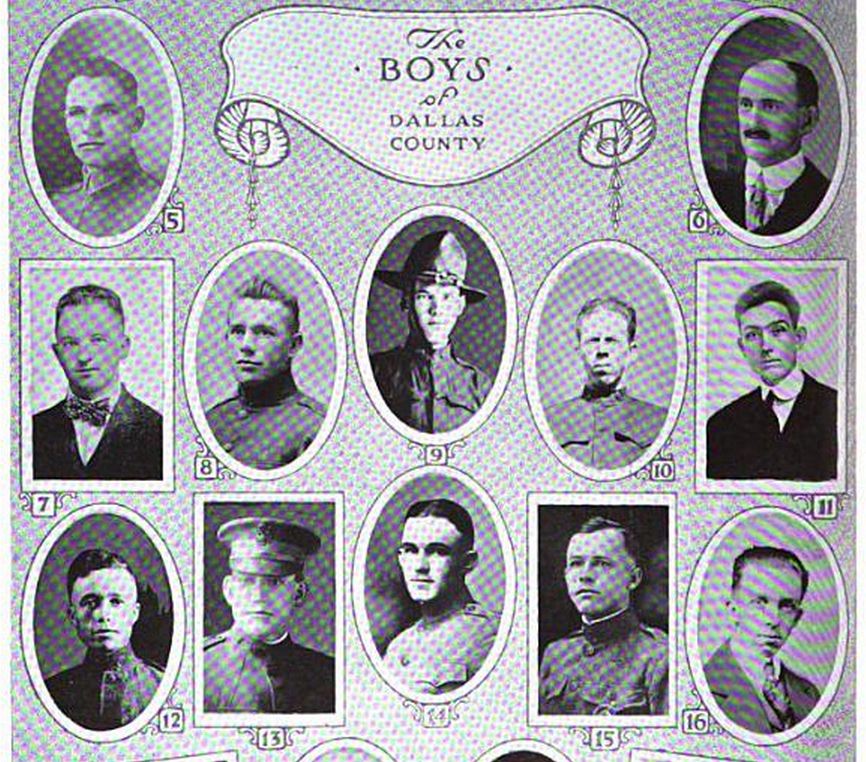 13 -- CAPTAIN HARRY G. WALCOTT, son of Mr. and Mrs. Ben O. Walcott, of 3308 Oak Lawn. Entered the service September 30, 1918. Attached to the Medical Corps. Base Hospital, at Camp Travis where he remained during the period of war. Was discharged February 28, 1919.
Dr. Walcott is a thirty-second degree Mason, a member of Hella Temple Shrine, the Knights of Pythias and Modern Order of Praetorians. He is a member of the American, Southwestern Medical, Southern and Texas Associations and North Texas District and Dallas County Medical Societies.
Dr. Walcott is deeply interested in the movement to make Dallas the medical center of the Southwest and believes with the additional hospital facilities already projected the city will take its rightful place among the foremost medical centers of the country.
Source: The Encyclopedia of Texas, Volume 2, p. 668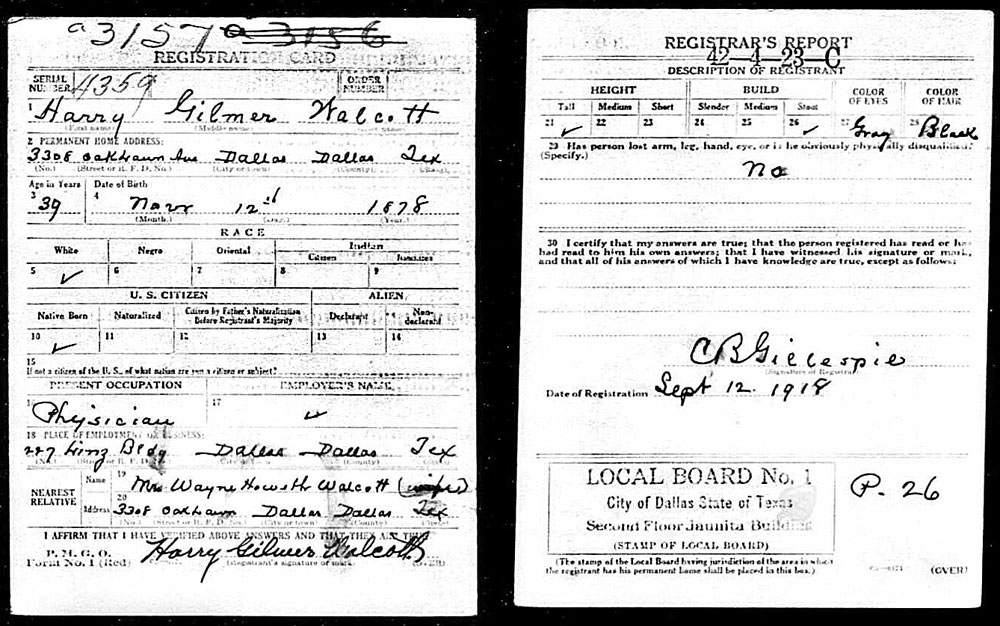 Harry G. Walcott's World War 1 Draft Registration Card, Dallas, Texas, September 12, 1918.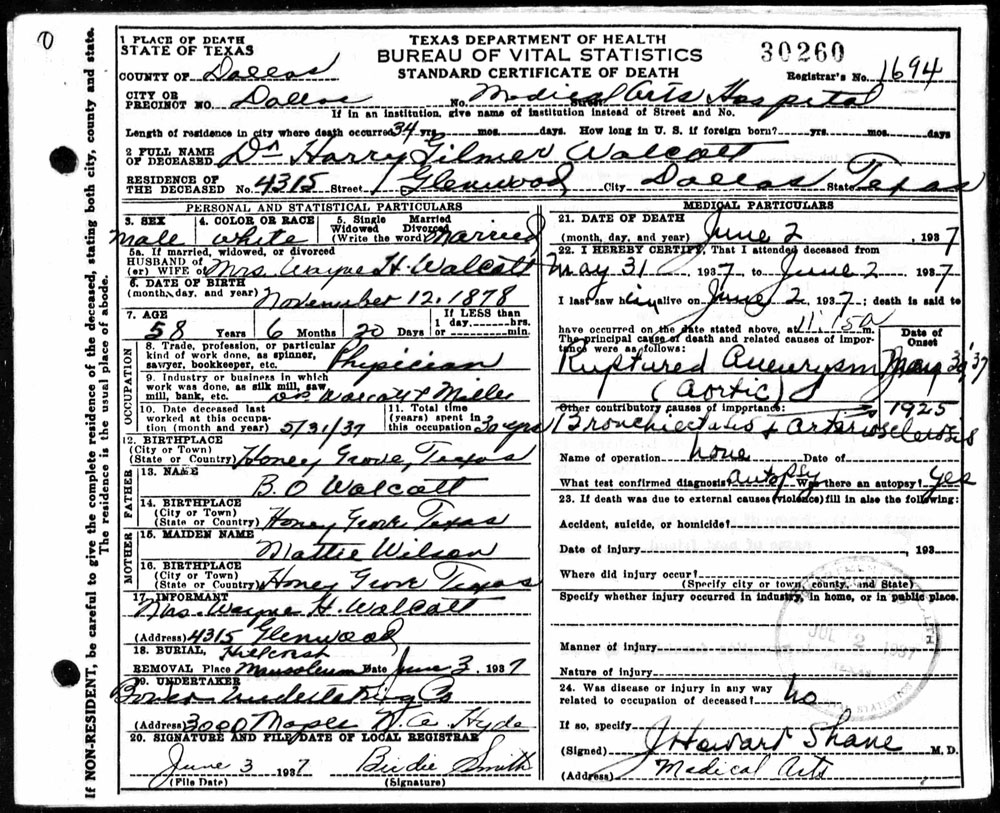 Harry G. Walcott's Death Certificate, Dallas, Texas, June 2, 1937.

Printed at the top of H.S. Bettes Hardware Co. business letterhead:
"The Finest Hardware Store in the South."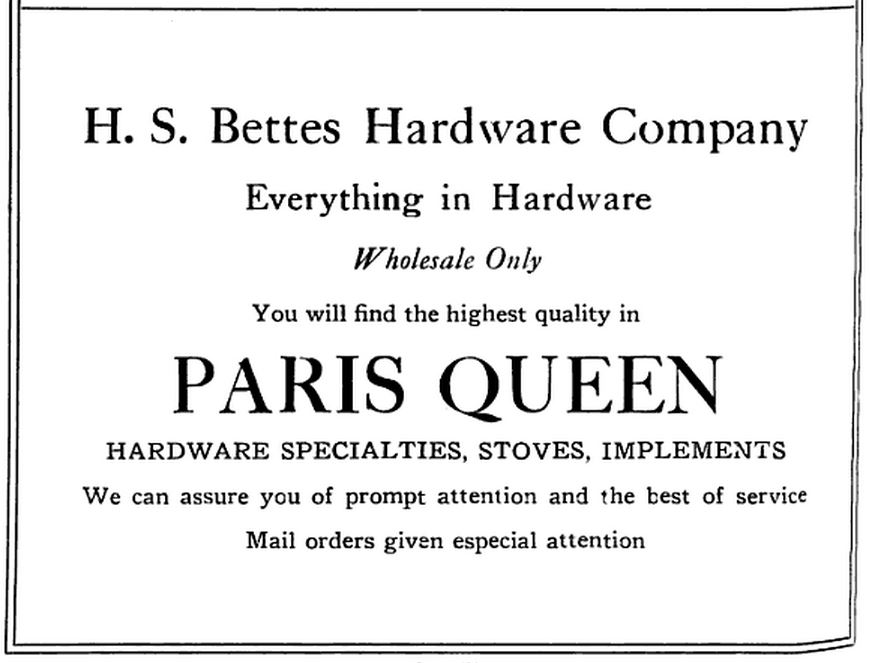 H.S. Bettes Hardware Company, Everything in Hardware.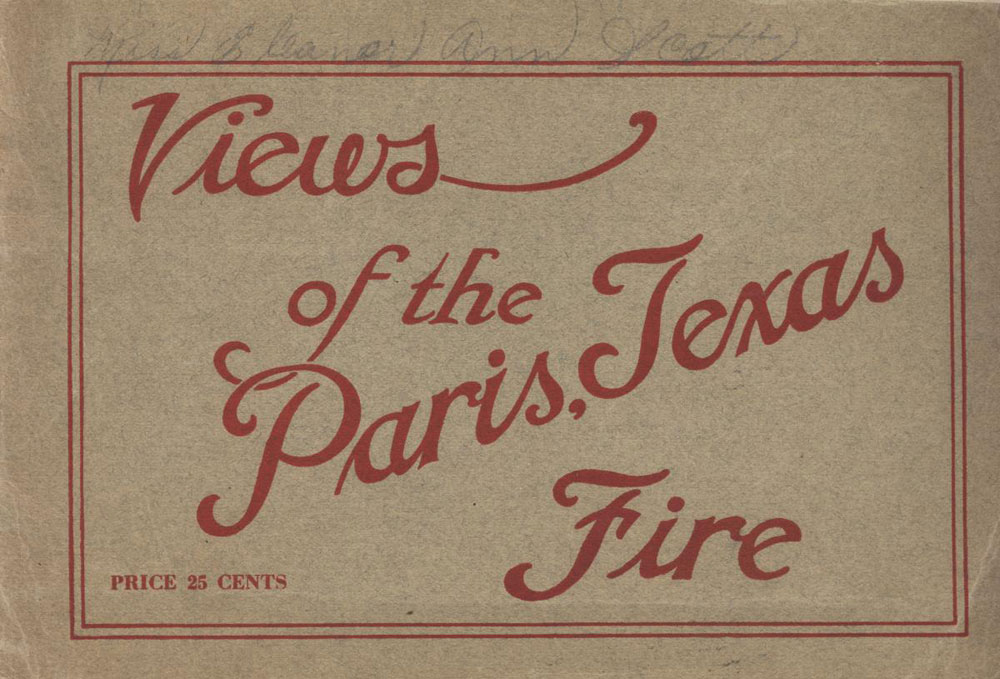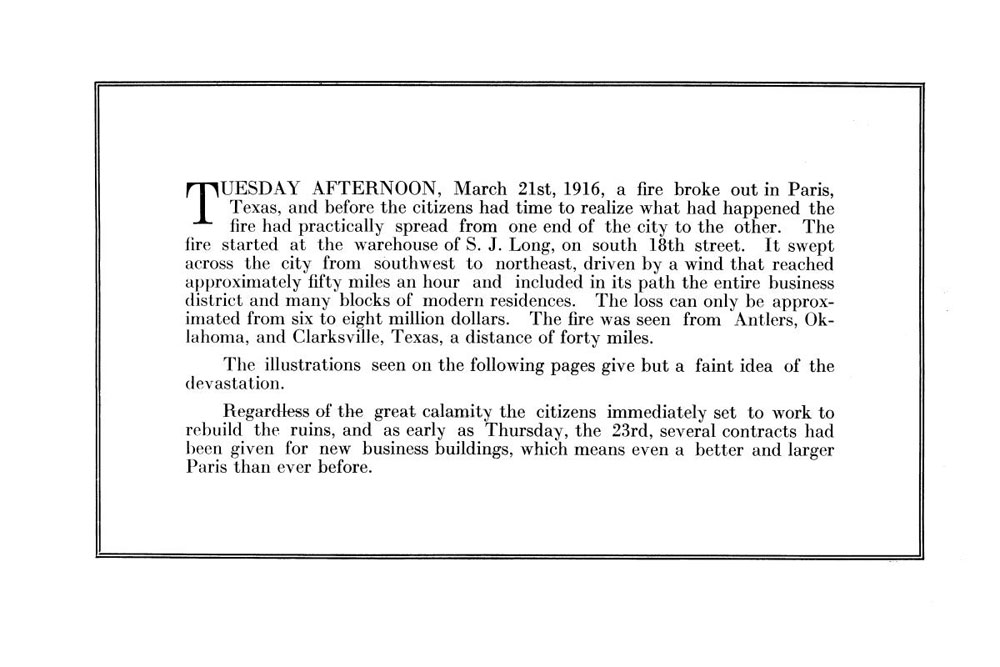 From a book about the Paris, Texas fire of March 21, 1916.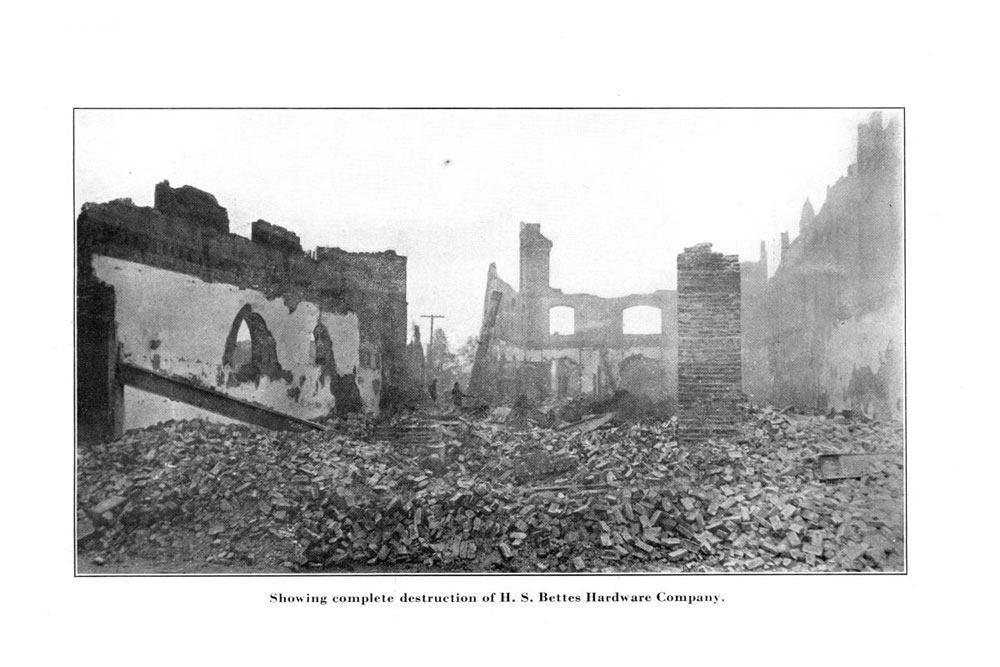 Destruction of H.S. Bettes Hardware Co in the Paris, Texas fire of 1916.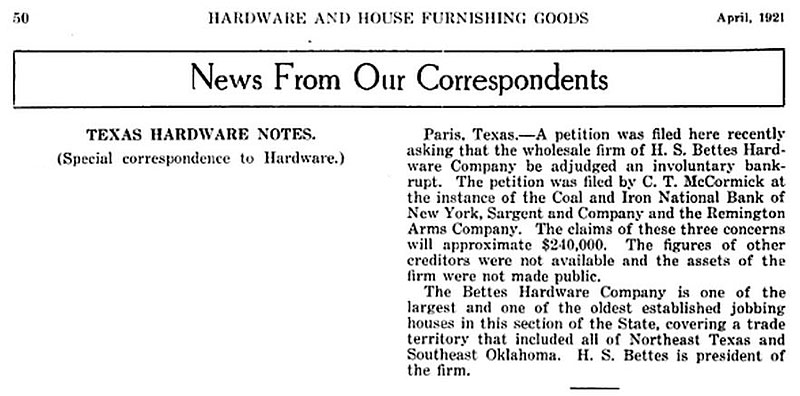 Noice of petition for bankruptcy filed against H.S. Bettes Hardware Company, April, 1921.
Harry S. Bettes Obituary
March 18, 1858 - June 23, 1939
H.S. Bettes Dies Friday - Funeral Service To Be Held in Ardmore; Burial In Paris
Harry S. Bettes, former head of the old H.S. Bettes Hardware Company here, died Friday morning at 2 o'clock at the Sanitarium of Paris where he had been since last September.

The body was taken to Ardmore, Okla., where he formerly resided with his only brother, Albert Bettes and after a service there, will be returned to Paris (sic. Paris, Texas) for burial.

The service here will be at 4 p.m. Sunday at the Church of the Holy Cross Episcopal, with burial at Evergreen cemetery. Manton-Fry Funeral Home is in charge here.

Survivors besides his brother are his sister, Mrs. James Ward of Kansas City and his three grandsons, Richard and Harrison C. Bettes of Bayside N.Y., and John W. Bettes of Great Neck, N.Y., one great-grand-daughter, and a number of nieces and nephews, among them Willie Bettes of Clarksville and Mrs. Gaines Hamilton of Austin.

His wife was Miss Mary McBath, sister of the late Oscar E. McBath.

As a young man, Bettes had been employed by his uncle, Joseph Bettes, in a hardware store. Upon his uncle's retirement, the younger Bettes formed a partnership with Col. George F. Hicks under the name of Hicks and Bettes. This later became the H.S. Bettes Hardware Company, which occupied a large building on North Main Street on the corner southeast of the courthouse. He had other business connections, including considerable interest in the Middle States Oil Company and other investments.

He gave liberally toward extension of the Episcopal Church property here, largely as a memorial to his wife and two children, Joe and Estelle.