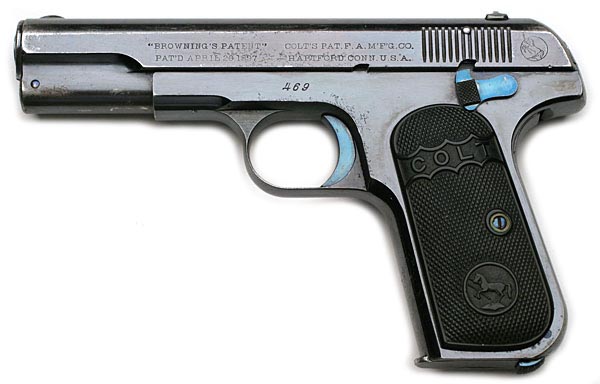 Colt Model 1903 Pocket Hammerless .32 ACP serial number 469 - Factory letter indicates that this pistol was shipped to Pacific Hardware & Steel Company, San Francisco, California on July 30, 1903 in a 20 gun shipment. Pistol has all of the earliest features found on this model.
High polish blue finish
4" barrel
Separate barrel bushing
Fire blued small parts
No opposing screw on the thumb safety

Plunge milled serrations
1897 Patent Date Only
Type I grips
Full blued unmarked magazine
Early sights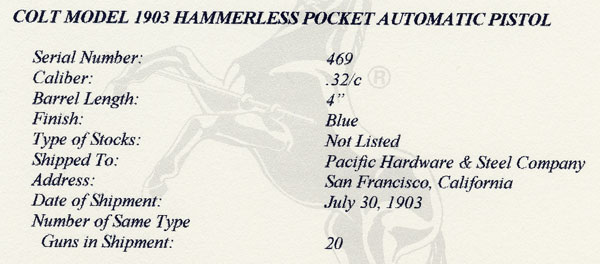 The history of the gun as recounted by the former owner's son:
In 1962, my late Father, Col. M.F. "Pete" Gardner, (USAF), was appointed to the advisory staff of the U.S. House Appropriations Committee, by the late Hon. John J. Duncan, Sr., of Tennessee. Since my Dad was a mechanical design engineer, with the Tennessee Valley Authority, (TVA), he was of course granted leave from that position, since ultimately his work in Washington would help TVA.

As the work he was doing in Washington involved very technical, sensitive, and secure information, and also involved the USAF, as well as the CIA, he was returned to "active" status, with the USAF as a Major, and subsequently was issued three identification cards. There was a green background photo card, a red background photo card, and a card that had multi-colors (and photo), which at that period of time was referred to as a "walk-on-water-card", which basically stated that "upon presentation of this card to any government agency, by the bearer, said government agency shall provide any service, transportation, or logistical needs, requested by the bearer, without delay."

In late 1962, my Dad visited a gun store in the DC metro area, (probably Arlington, VA), as that is where his provided apartment was located. Since he had flown B-17's in WWII, he was more than familiar with the 1903 model, and it's variations. When he found the first model, number 469, and the shop owner told him "This one used to belong to Maj. Gen. Nathan F. Twining, USAF", my Dad of course purchased it on the spot. In the two plus years that followed, my Father carried this auto with him, everywhere he went. When he would fly commercially from DC back to Knoxville, TN, with a brief case hand-cuffed to his left wrist, the little Colt was always in his left inside suit jacket pocket. And that fact may explain why there is not any "holster-wear" on the 1903, as he either carried it in a zip-up pouch, or jacket pocket, as long as I can remember.

Now, jumping to 1995: My Father had a "ballooned aorta, the result of an automobile accident in 1989, and he knew that he would die from that, at some point, he began telling me things [about his military history.] During his tenure at the Pentagon, (where his office was), he would call home from time to time, and speak with my Sister and me, to see how we were doing in school, etc., and then he would tell us to put Mother on the phone, and she would be on for about ten minutes, and then hang up, with a sad look on her face. She would then tell us that "Daddy can't come home for a month or so, he has to do some traveling".

As he related to me in 1995, those "month or so" trips were actually to Southeast Asia, and to be more specific, to Laos, or Cambodia, as he was flying missions called "White Star", which was some kind of super secret "support" missions to U.S. "advisors" in remote areas. He flew the old C-117 "Hummers", C-123's, and some Caribou's, which looks like a miniature C-123. How he ever got involved in such "missions" I will never know, as he passed away in March of 1996, but knowing him, he probably "volunteered". Now, I have no solid proof, since I was not there, that he carried the 1903 with him on these adventures, but he did say that "most anything, (firearms), were considered "sterile", as long as they did not have property of U.S. Government markings on them", and of course, the one now in your possession does not have such markings, I will surely bet that he carried it with him to Southeast Asia. And that may explain some of the light "freckling" on the 1903, as the climate there is very humid, and I know he always kept it well oiled.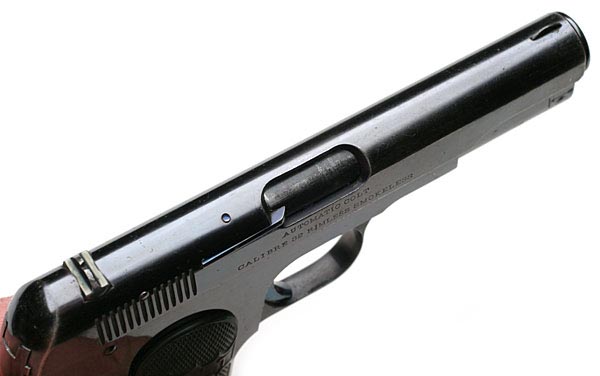 1903 Pocket Hammerless .32 serial number 469 - top view of slide.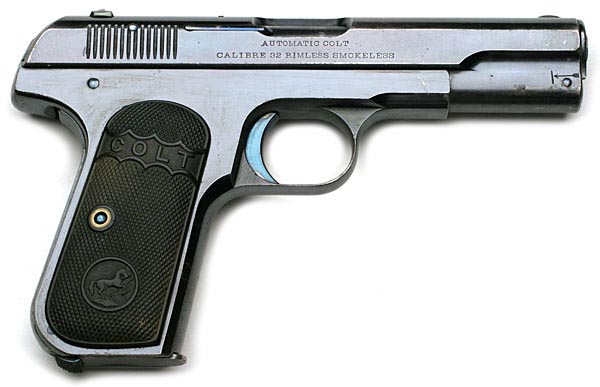 Model 1903 Pocket Hammerless .32 serial number 469 - right side.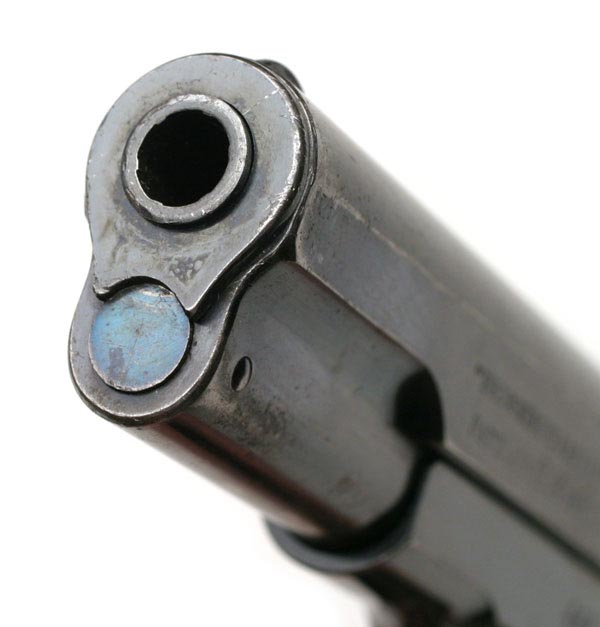 Type I Barrel bushing and fire blued plug.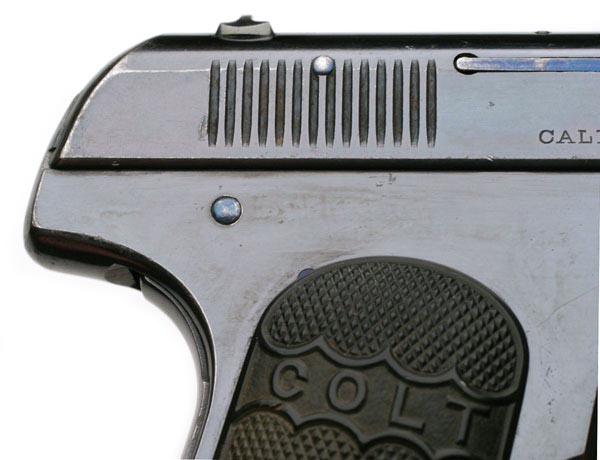 Right side view of thumb safety - this variation pre-dates the use of the opposing thumb safety screw.