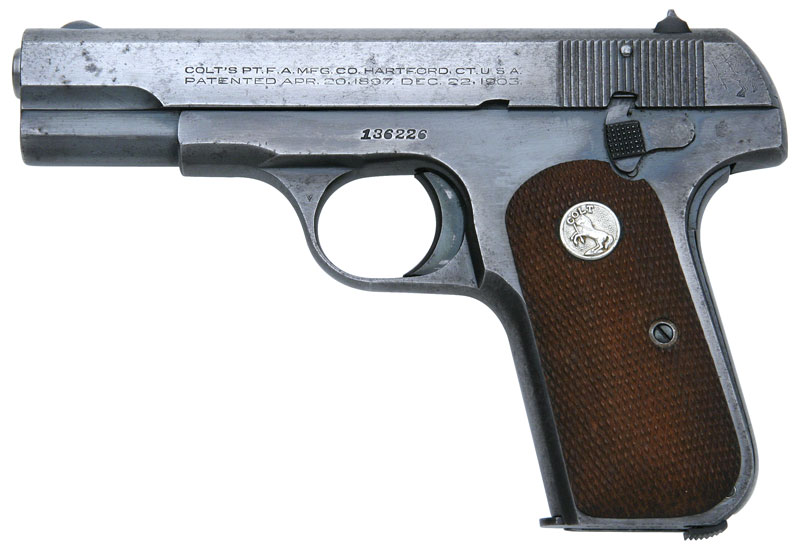 Colt Model 1908 Pocket Hammerless .380 ACP serial number 136226 - pistol was issued to Brigadier General Hamilton E. Maguire (West Point Class of 1916). Pistol has original two piece kraft box numbered to pistol with two spare magazines.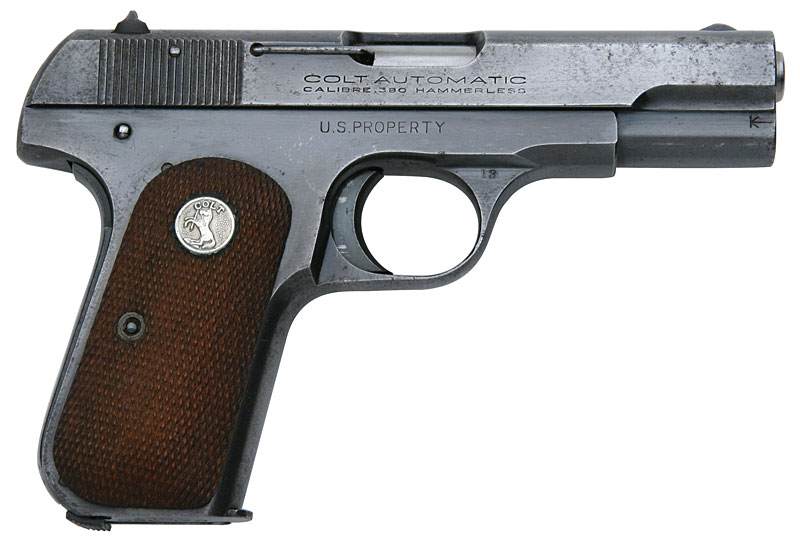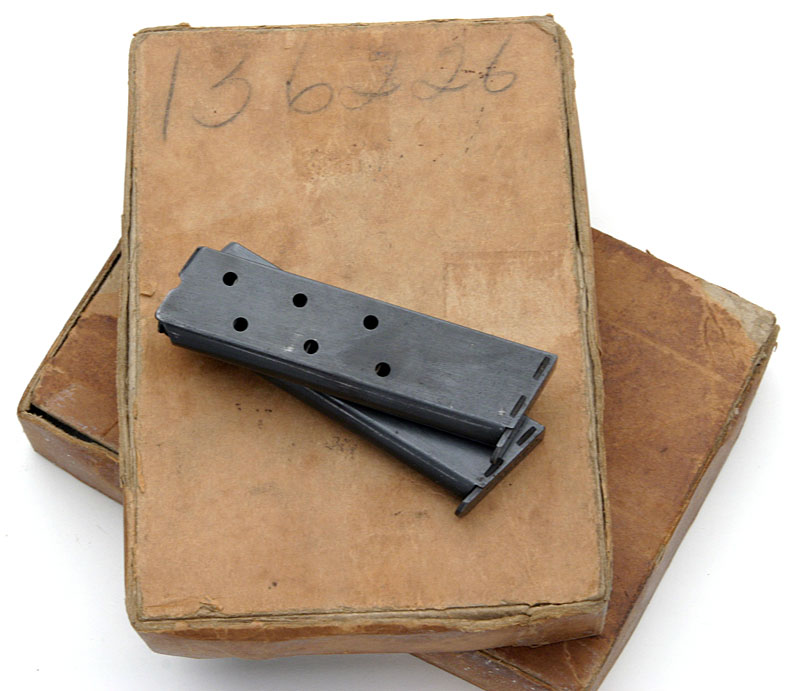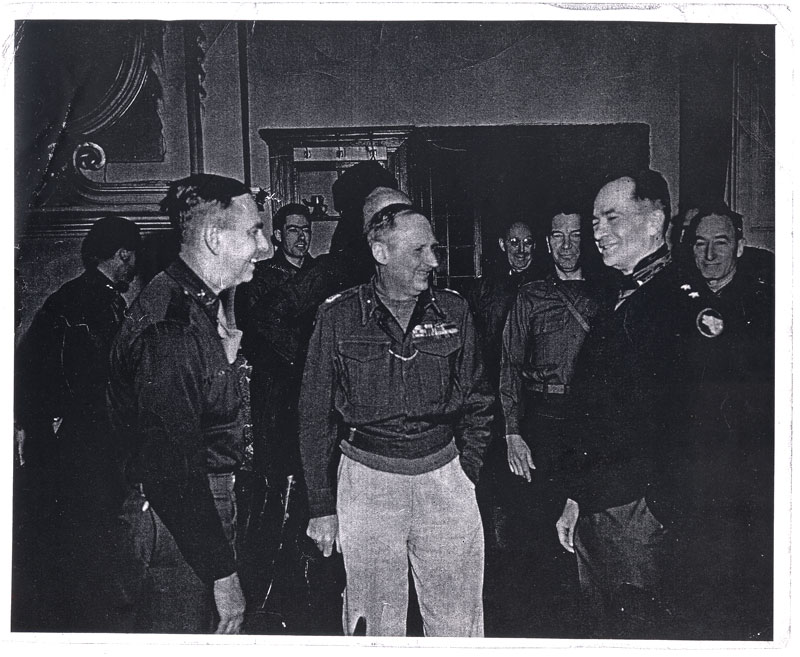 Field Marshall Montgomery (center) and Brigadier General Hamilton E. Maguire (right)
Gen. Maguire, 79, Dies; 32-Year Army Veteran (Evening Star, February 22, 1971)
Retired Army Brigadier General Hamilton E. Maguire, 79, chief of staff of the XIX Corps which fought from Normandy to the Elbe River in World War II, dies in Georgetown University Hospital Saturday after a brief illness. He lived at 3519 Rodman St. NW.
General Maguire, burn in Detroit, was a 1916 graduate of the U.S. Military Academy. Commissioned in the field artillery, he serves first on the Mexican border while General John J. Pershing was pursuing Poncho Villa.
In 1919 - 1923, he was assistant military attaché in London.
At the beginning of World War II, general Maguire was on the old War Department general staff here. After the war he was chief of staff of the 3rd Service Command in Baltimore, Ft. George C. Meade post commander and chief of staff of the U.S. Military Aid Group in Athens. He retired in 1948.
General Maguire's military decorations include the Distinguished Service Medal, the Legion of Merit, two bronze stars, the French Legion of Honor and the Croix de Guerre with palm, the Order of Orange-Nassau and Polonia Restitute.
He was a member of the Army and Navy Club and the Chevy Chase Club.
He leaves his wife, the former Anne Droop; a son, Edward of Washington; three daughters, Mrs. Gordon Gray and Mrs. John G. Keller, both of Washington, and Mrs. F. Dwight Cossitt or Richmond; a brother, Edward of New York, and 16 grandchildren.
Graveside services will be held at 11 a.m. tomorrow in Arlington Cemetery.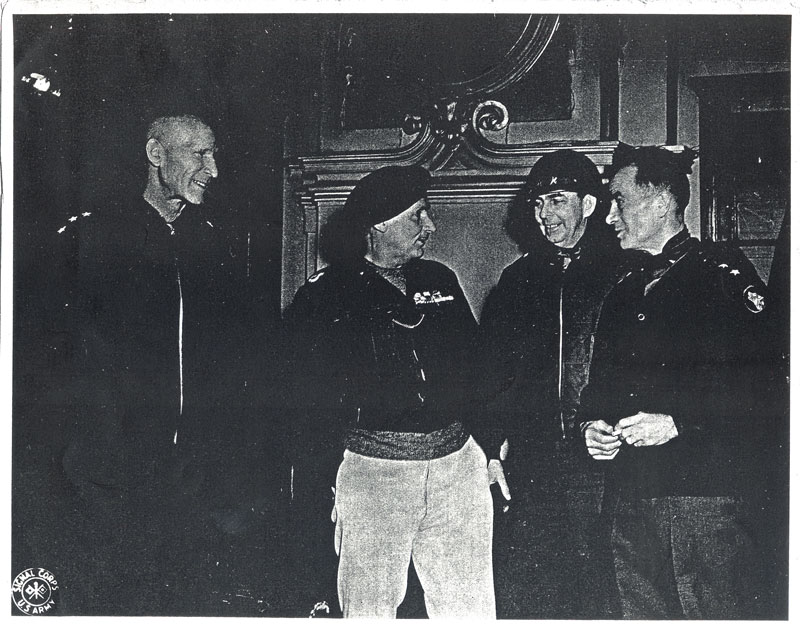 General Simpson (left), Field Marshall Montgomery (center) and Brigadier General Hamilton E. Maguire (right)
Born, 24 November 1891
Detroit, Michigan
1910-1912
Attended the University of Michigan
1916

Graduated from West Point, Class of 1916, Field Artillary.
1916-1917
Punitive Expedition into Mexico
1930
Graduated from the command and General Staff School
1938
Graduated from the Army War College
1944
September, 1944, Brigadier General
1944-1945
Chief of Staff, XIX Corps
1945-1946
Chief of Staff, 3rd Service Command
1948
Retired
Decorations

Two Bronze Star Medals, Legion of Merit, Distinguished Service Medal

Distinguished Service Medal
(Citation Needed) - SYNOPSIS: Brigadier General Hamilton E. Maguire (ASN: 0-4433), United States Army, was awarded the Army Distinguished Service Medal for exceptionally meritorious and distinguished services to the Government of the United States, in a duty of great responsibility during World War II.

General Orders: War Department, General Orders No. 82 (1945)

Service: Army

Rank: Brigadier General

Legion of Merit
See more recipients of this award

Awarded for actions during the World War II

(Citation Needed) - SYNOPSIS: Brigadier General Hamilton Ewing Maguire (ASN: 0-4433), United States Army, was awarded the Legion of Merit for exceptionally meritorious conduct in the performance of outstanding services to the Government of the United States as Chief of Staff, XIX Corps, from 1944 to 1945.
Action Date: 1944 - 1945

Service: Army

Rank: Brigadier General

1971

D-Washington, DC 20 February 1971