Colt Woodsman Third Series Model .22 LR - Woodsman 2nd Series / 3rd Series Match Target Mystery Gun .22LR 6" Blue, Features 2nd Series Serial Number 111489-S (1952)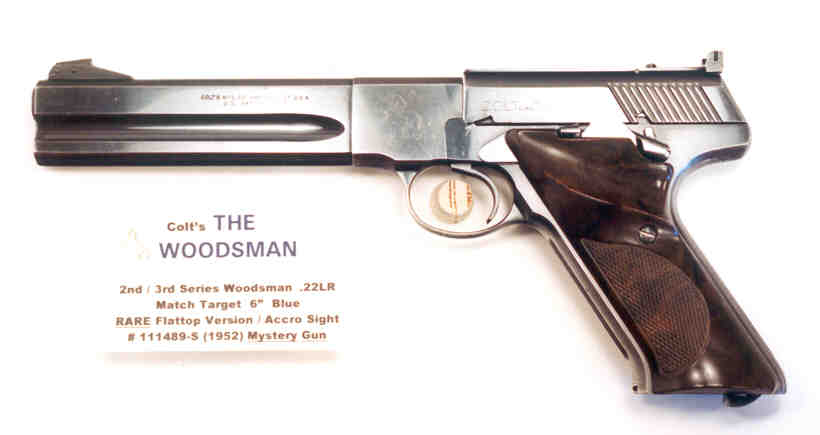 Woodsman 2nd Series / 3rd Series Match Target Mystery Gun .22LR 6" Blue, 90%+. Features 2nd Series SN#111489-S (1952) with original 2nd Series brown injection molded plastic grips w/thumbrest, mint bore, 2nd Series machined slide stop lever, 2nd Series barrel roll markings 2nd Series mag, 2nd / 3rd Series Accro rear sight / flattop slide w/rounded base front, 3rd Series (early) polished radius slide, 3rd Series bluing motif on bottom of barrel and in barrel flutes, 3rd Series blued (not bright polished) finish on raised front barrel muzzle surface, 3rd Series larger trigger guard, 3rd Series trigger, 3rd Series mag release on butt, 3rd Series no mag safety feature, 3rd Series main spring housing without lanyard ring bar or grip adapter hole with thinning blue on grip front and backstraps. Major Robert Rayburn, of Tacoma, WA; author of the Woodsman collector's bible, the little

red

Colt Woodsman Pocket Guide and the world's leading authority on Colt Woodsman pistols thinks it "was a 2nd Series that had problems (such as a cracked frame) and was returned to Colt for repair after the 3rd Series came into production. They probably replaced the frame and numbered it with the original SN#. They would probably have reblued the whole thing at the same time, likely using the bluing scheme in effect at the time of the repair. They may, or may not, have stamped an ampersand (&)(they did not) somewhere on the frame, most likely in the aft right hand trigger guard web." Rayburn continued: "I don't know about your particular pistol, but I do know that frames were replaced and given the original number sometimes; I saw entries in the shipping records to that effect for some prewar guns. Unfortunately that doesn't necessarily mean that there would be such a notation by your serial number, but there might be." I found the gun at a local Iowa gun show in November '97 and normally don't look at guns in this condition but something just didn't look right and it took several minutes to come up with the reasons why it didn't. Truly a Mystery Gun and a special find! There are no hints of tampering of any sort!