Colt Woodsman Third Series Model .22 LR - Woodsman 3rd Series Huntsman S Master Colt Custom Shop Limited Edition 1 of 400 .22 LR 4.5" Royal Blue, NIB & Cased, Serial Number 314974S (1983)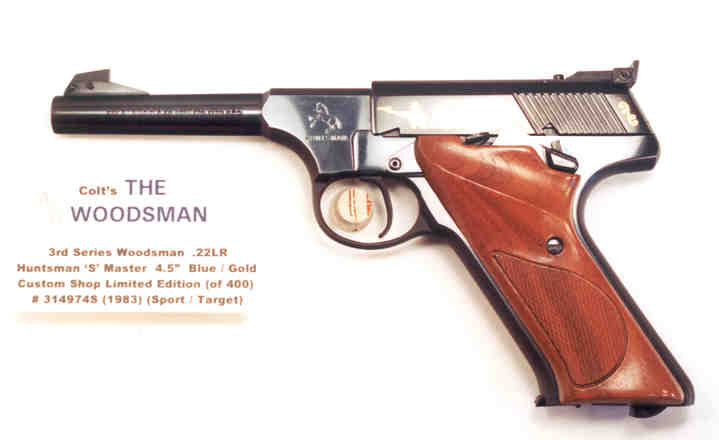 Woodsman 3rd Series Huntsman S Master Colt Custom Shop Limited Edition 1 of 400; .22LR 4.5" Royal Blue, NIB & Cased, SN#314974S (1983) with mint correct beautifully figured (really nice) original walnut grips w/thumbrest, mint bore, correct mag, correct unique Elliason adjustable rear sight, unique (for Huntsman) slide stop mechanism/lever, original Xerox instruction sheet (they all were Xerox copies - 6 years after ending Woodsman production), list of authorized Colt warranty service stations and The Colt Companion brochure, Colt Congratulations! letter, The Colt Collection merchandise brochure w/order form, hang tag, in near mint correct wood grain sleeve/Styrofoam insert box with chartreuse Colt Custom Shop label intact and numbered to gun. Gun is finished in the striking high gloss Royal Blue (Python) finish accentuated by differing gold etchings on both sides of the slide and featuring a target shooter on the left (display) side. Comes with walnut french-fitted display case with blue velvet interior and similar motif blue w/gold etchings edition plaque denoting Huntsman S Master Edition 1 of 400. Display case is mint with key in kraft envelope. Everything comes in original shipping case. Colt produced these as a parts clean-up effort 6 years after Woodsman production ceased and they were all 4.5" guns but around 285 had the regular untapered Huntsman barrel/front sight and the remaining 115 had either the tapered Sport model barrel with either the Sport model trapezoidal front sight blade or the Target model patridge front sight blade as does this gun. Some had 3rd Series triggers while this has a 2nd Series trigger. Colt Factory Letter included. Gun is strikingly MINT and unfired!

Note: These two Huntsman S Masters (Serial numbers 309030S and 314974S) represent two of the three possible barrel / front sight combinations.

This photo taken earlier than the others shows the gold detail on the left side of the slide that glare destroyed in the other photos.