Hoglund Collection
Model 1907 Military Serial Number 145 - 200 .45 cal. No. 1 -200 (inclusive) Modified hammer, Nearly vertical ejection. Auto Indicator to show that chamber is loaded, Auto safety, Strengthened stirrup, and Lengthened trigger stirrup pin. Shipped to the U.S. Government, Springfield Armory, March 17, 1908.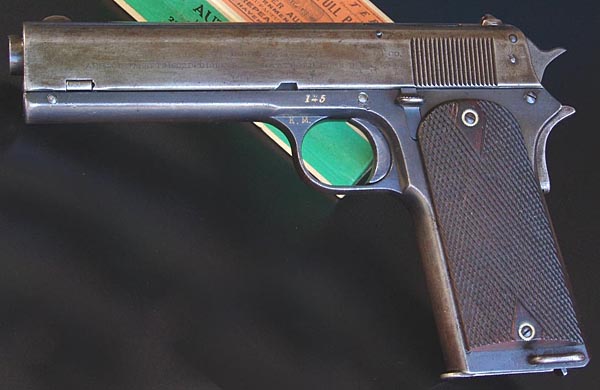 Left side of Model 1907 sn 145. Note the grip safety and lanyard loop.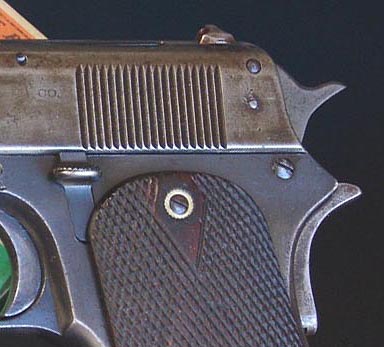 Close-up showing modified hammer and grip safety.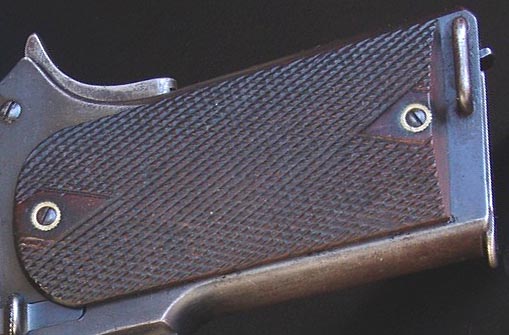 Left grips shortened to allow for the lanyard loop on the left side.

A single officer presided over the inspection of the Model 1907 Contract pistols. All of the pistols originally bore the initials "K.M." for Major Kenneth Morton. These initials were hand stamped into the upper leg of the trigger guard on the left side. Major Morton assumed the post in April 1907 and acted as the inspecting and accepting officer throughout the fiscal year 1907 - 1908.