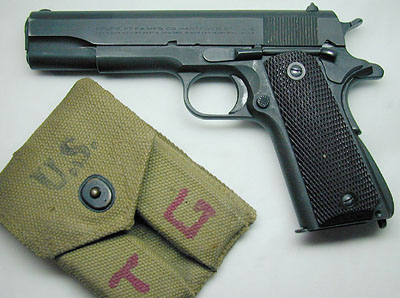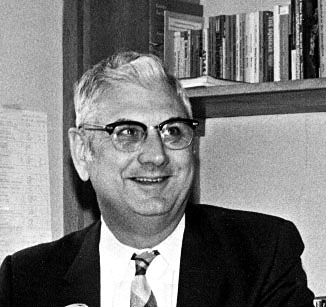 Dr. Thomas G. Gault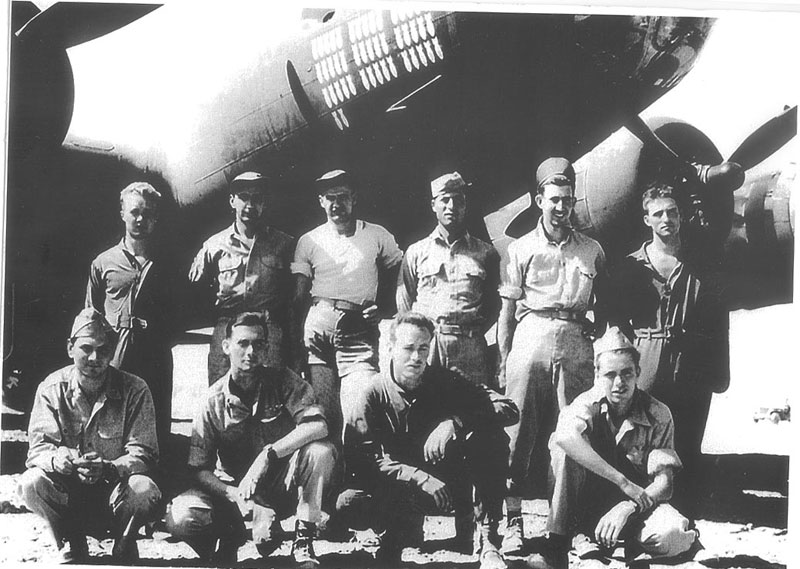 JULY 1943 - AXIS ASS ACHE # 229490 - Crew#17

Left to Right (Front Row): Tom Gault - Bombardier; Norm (Bud) Kaufman - Pilot; Bill Holt - Co-pilot; Bill Haddock - Navigator
Left to right (Back Row): Dominic Demick - Tail Gunner; ? Pusanne (Walter?) - Waist Gunner; Ed Malinski - Radio; Reuben Wilburn - Flight Engineer; Ed LaRoche - Ball Turret; ? Repp - Waist Gunner
(Photo Source - James Redick, Detroit MI)
---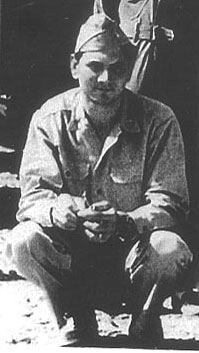 Tom Gault entered the U.S. Army Air Corp in 1941 for pilot training. He completed primary and basic training and was transferred to bombardier/navigation training school. Tom was assigned as commissioned officer to the a B-17 Group (99th BG,15th AF, 347th Squadron stationed at Constantine, Algeria and Bezertia, Tunisia) and served nine months in North Africa, receiving decorations for fifty missions over France, Italy, Sicily and North Africa. The name of the B-17 was AXIS ASS ACHE (Triple A). After military service, he devoted his life to teaching.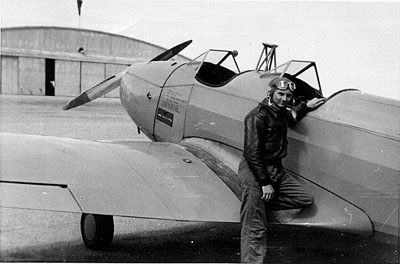 Here is the history of my Colt 1911A1 pistol serial number 860991. Itís so long ago, the story starts when I had finished 50 missions in B-17s in North Africa, Italy, France and Sicily. I received orders to return to the U.S.A. at my earliest convenience and by whatever transportation was available. As you may guess, it didnít seem to me that they were in any rush for me to get home. As it happened to be at the end of rest camp at Cape Bone, Algeria, that I began a sort of vacation tour of North Africa.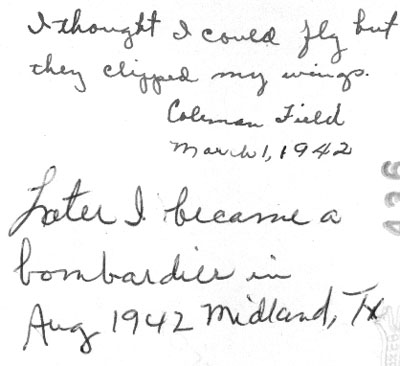 I visited places where army air craft went, like Egypt, Tunis and Algeria, ports of Algeria and Oran then to Marrakech, Morocco, there I caught a DC-3 to Timbuktu carrying mail and wound up in Dakar, West Africa. I spent several days there with others trying to get home by hitching a ride on a plane coming home. Life there was restful and full of movies and at the PX.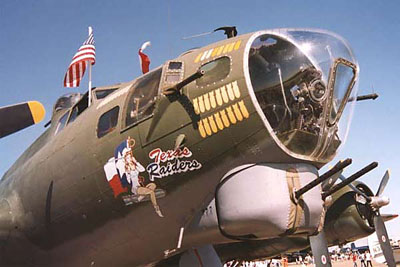 Photo © Allen Matheson
One could buy almost anything. After about three days, I came in one night to be greeted by the MPís who informed me that ďI had been selected for a plane trip courtesy of Uncle Sam and the plane left in 39 min., Lets go!Ē At the plane they cuffed me to a briefcase, and strapped on me the belt with my Colt 1911A1 .45, with two magazines of .45 Ammo and gave me instructions that no one was to touch the case until I arrived in Miami at the risk of death. Well, as you may guess I was scarred Shi---. When I arrived in Miami, I tried to give the case to the officer who met the plane and he acted as if I had tried to give him a case of Clap.
He steered me, keeping about ten paces away, to base security shack where they made a big to-do about unfastening the cuffed case and thanking me for a job well done.
I served in U.S. Army Air Corp from Aug. 1941 To Aug. 1945 as Bombardier on B-17 Bomber and 2 years instructor on B-29ís at Pyote, Texas. After service I devoted my life to teaching.
Sincerely,
Thomas G. Gault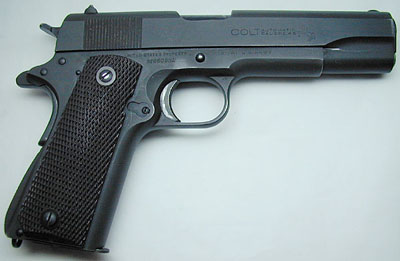 Model 1911A1 No. 860991 - One of 6,575 unsold commercial Government Model pistols transferred by Colt to their existing Military contract (No. W-478-ORD-1528). The GOVERNMENT MODEL inscription on the frame was removed and was restamped UNITED STATES PROPERTY in its place and M1911A1 U.S. ARMY in front of the pin for the takedown lever. The commercial serial numbers were removed and they were renumbered in the military serial number range beginning with number 860003. Then the guns were parkerized.
This pistol was manufactured with the Swartz Safety (which was a firing pin block safety added to Government Model pistols around 1938) but the internals have been removed upon conversion to the military contract. This pistol also has the letter S (the commercial sale mark) stamped inside the slide and frame. This pistol has three original commercial magazines which were also transferred to the military contract. They are full blued, with riveted bases and are marked COLT over .45 AUTO. The bottoms of all three magazines have been sand blasted to make them non-reflective.
There is a P proof on the top of the slide, in front of the rear sight and alto a P on the left side of the frame near the magazine release button. The barrel in this gun is a commercial barrel marked COLT .45 AUTO on the left side, with the commercial sale mark S in front of the barrel lug on the underside of the chamber. There is no P on the left lug.
Gun has Type 2 Coltwood plastic grips with strengthening ribs, mold numbers and large reinforcing rings around screw holes.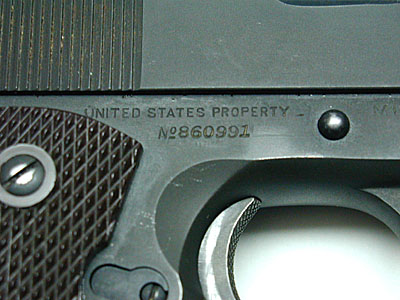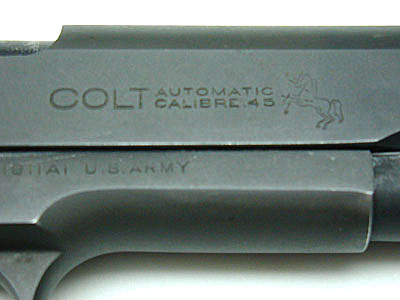 Commercial slide marking on right side of slide.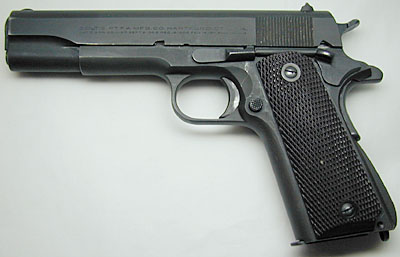 Left side.
G.H.D. - Inspected by Ordnance Inspector Brig. General Guy H. Drewry, Springfield Ordnance District, Army Inspector of Ordnance June 17, 1942 - July 15, 1945, 1911A1 Pistols serial numbers 845000 - 2360600 (approx.) (860003 - 860500 marked W.B.)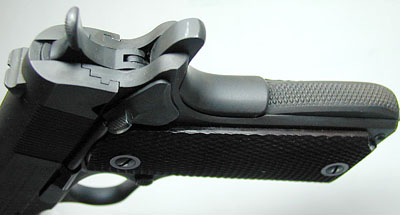 Rear grip strap retaining virtually all original parkerized finish.

Front grip strap retaining virtually all original parkerized finish.
DR. THOMAS GOWER GAULT
September 2, 1919 - December 10, 2010
BIOGRAPHY
Dr. Thomas Gower Gault, age 91, Professor Emeritus of Indiana University of Pennsylvania, died December 10, 2010 at McKendree Village, Hermitage, TN. Dr. Gault, a native of Cornersville, TN., was the son of H.W. and Arlene Gault and a grandson of Dr. Fred Gault of Lewisburg. He was preceded in death by his first wife, Virginia Garner Gault, his son; Richard T. Gault, and one brother; Fred Harold Gault.

He is survived by his wife, Ruth Gault of McKendree Village, Hermitage, TN., a sister; Dorothy Gault Zemanek of Glen Falls, N.Y. He attended Cornersville School and Martin College before obtaining a B.A. degree in Math from the University of Chattanooga; a B.S. Degree in Education at M.T.S.U.; an M.A. degree in Economics at Peabody College for Teachers; and an Ed.D. in Geography from Peabody College/Vanderbilt in 1959.

A veteran of WWII, he served as 1st Lt. Bombardier of 50 missions in a B-17 crew in North Africa, Sicily, and Italy, for which he received ten air medals and three Presidential Citations. Returning from overseas, he served as instructor for B-29 crews and ground classes for navigation and weather. After WWII, he became a teacher, coach, a principal, a superintendent of education in Tennessee. Later, he taught 27 years in colleges in Pennsylvania and developed the Department of Geography and Regional Planning at Indiana University of Pennsylvania and its Chairman for 20 years. He was a Rotarian (President for 1975-6 Indiana, PA.) and was secretary to the National Council for Geographic Education. He retired to a new career as a Realtor with Century 21 at Tullahoma, TN. in 1979-1990. He was a member and Elder of the Presbyterian Church before entering McKendree Village.